Developing a Successful Business Structure: The Pyramid of Support
April 6, 2021 •Oak Street Funding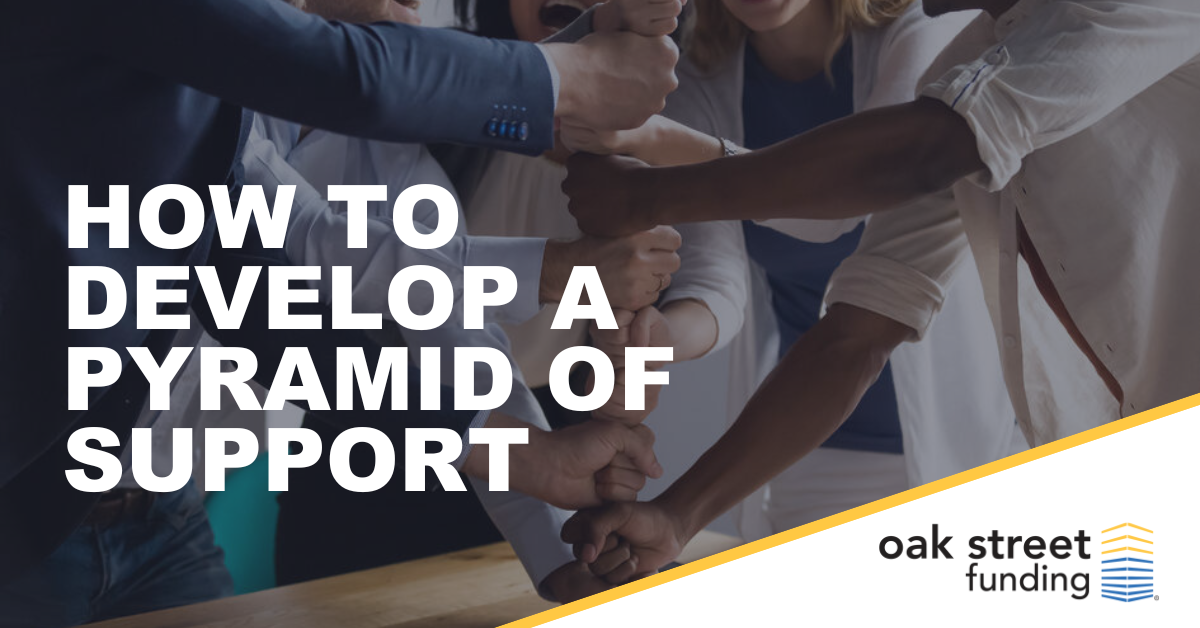 There are many ways to develop a business structure, but few business structures are as practical, enduring, and focused on growth as the familiar pyramid.
The base of the pyramid business structure, which covers the largest area, represents the staff. Moving up and narrowing, the next level represents senior staff, with specialized skills and some supervisory roles. The pyramid narrows even further for the next level, which includes the company's managers. The narrowest part of the pyramid, the very top, represents the people who own the business.
If your business can maintain that pyramid of support, it's well-positioned for long-term success and viability. Suppose you consider the most profitable business structure as the one generating the most income per owner. In that case, you'll nearly always find a well-proportioned and well-managed pyramid at the heart of their operations.
Inverted pyramid business structures
Today, many businesses struggle with a pyramid that's out of balance, having a staff that's too small to support the number of owners and managers. These companies often have a business structure that resembles an inverted pyramid. In this environment, owners and top managers find themselves doing work that is more appropriate for middle managers or staff, so they have less time to attend to business development and managing customer profitability. Without the luxury of time to think strategically, these businesses begin to demonstrate less creativity and innovation in serving the needs of the marketplace.
Now add in the impacts of generational conflict. The manager tier is populated primarily by members of Generation X, which may have an inherent workstyle conflict with the owners, who are typically Baby Boomers, and the staff, most of whom fall into the Millennial category.
The result is many companies have become under-leveraged. Owners lack time to delegate lower-level work, so they can instead focus on business development, profitability, and ensuring professional growth among lower-level employees. A generation ago, an owner nearing retirement could count on having a manager who was a ready replacement. Today, even if a manager is available, they may lack the knowledge to step into the ownership role.
Examining your company's pyramid
Rebalancing and maximizing the efficiency of your pyramid demands an honest look at your current business structure. First, you need to ask yourself if the organization is top-heavy, especially if it seems to be supporting owners and managers who aren't pulling their weight.
Examine the nature of your compensation structure to see if it discourages owners from delegating work to managers and senior staff. Suppose the system penalizes delegation instead of rewarding it. In these instances, there's likely to be inadequate work for the managers and seniors, keeping professionals at these levels from developing the skills and experience they need to move up the pyramid when the time comes.
A vital aspect of the pyramid business structure is staff development. If the business is to be sustainable, the pyramid's base must be large enough and busy enough to support those in the higher ranks. Recruitment should be focused on finding the right people to populate the lower levels, with professional development concentrated on identifying those most likely to advance by supporting their career journeys with the proper training and mentorship. Owners should not be wasting their valuable time on low-level tasks that provide minimal profitability. If the business is out of balance, the leadership must have the courage to make tough decisions regarding staffing and structure.
Rebalancing your pyramid
Rebalancing your company's pyramid demands introspection, strategic thinking, and more than a bit of honesty. It can be an uncomfortable process because everyone has become accustomed to the way things are done. It will take some time to correct things, but keep in mind that it took years to reach this current state.
The most effective approach for restoring the proper balance to a business structure involves five steps:
Evaluate customers to ensure that the business is structured to serve the best and most profitable. It's also good to make sure the customers have developed loyalty to the company and not just the individual who leads their efforts.
Create a formal talent development plan built upon the overall business strategy.
Develop a formal career path for professional employees that includes tracks to eventual ownership, and communicate that plan to every employee. Make sure people understand what's ahead for them. If managers aren't going to be offered the opportunity for ownership, they need to know that.
Identify individuals who have the highest potential for leadership and put them on a fast track for professional growth. That's especially important for managers you hope to move into owner-level positions.
Spell out accountability for owners, including the role they'll play in developing and mentoring staff.
By taking these steps, your business will be able to shift more day-to-day work away from the top of the pyramid and give the leadership a formal structure to oversee future leaders' development.
Sharing plans is crucial
Traditionally, business leaders have been close-mouthed about their plans and whom they envision will one day succeed them. In today's environment, that approach is less effective. People want to know that you have a plan and what role they'll play in that plan. If you have big plans for specific team members, let them know and compensate them accordingly. If they don't know your objectives, they may assume their future will be brighter elsewhere and prepare for the next call from a headhunter.
Just as important, prune your pyramid. You may feel sorry for an employee and hope they'll change or somehow develop into someone else, but that's unlikely to happen. If they're not performing at the level you need, replace them with someone who is. That's not easy to do, but the longer you string them along, the more they'll drag everyone else down.
Finally, take an honest look at your compensation model. Encourage people in your pyramid's upper levels to delegate more of their work to the next level down. You'll need to adjust compensation, so they're not penalized for pushing those hours to others. Reward innovation. If someone comes up with a novel approach to improve service and profitability, they should share the benefits because that will motivate others to do the same.
Rebalancing takes time
All of these changes and challenges require a significant amount of time to process and plan. In the long run, however, rebalancing your company's pyramid will provide many healthy rewards. You'll have a more engaged and empowered team, resulting in more efficiency and productivity. Owners will be encouraged to be more innovative, improving the value offered to customers, realizing more revenue, and giving the business significant competitive advantages in a marketplace where customers have more options.
Once a path forward has been determined, businesses often require an infusion of cash to implement their strategy whether for salary increases, adding personnel or upgrading technology to enhance efficiency. If you are considering this option but don't know exactly where to begin, please feel free to contact us. At Oak Street Funding we have experts in lending who have helped hundreds of clients work to make their business goals a reality.
---
Disclaimer: Please note, Oak Street Funding does not provide legal or tax advice. This blog is for informational purposes only. It is not a statement of fact or recommendation, does not constitute an offer for a loan, professional or legal or tax advice or legal opinion and should not be used as a substitute for obtaining valuation services or professional, legal or tax advice.
By clicking on a third-party link, you acknowledge you are leaving oakstreetfunding.com. Oak Street Funding is not responsible for the content or security of any linked web page.