What Are Smart Strategies to Help You Grow Your Insurance Agency?
April 8, 2021 •Oak Street Funding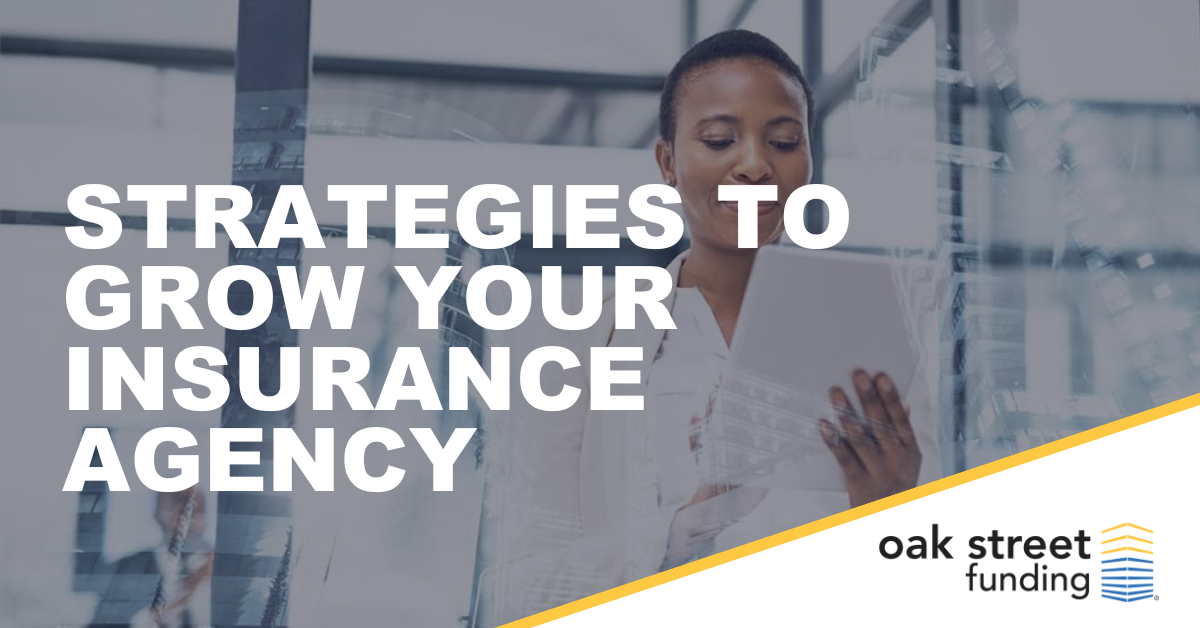 If your goal is to grow your insurance agency, you'd be wise to investigate and follow the strategies and practices used by other insurance agencies that have experienced tremendous and sustained growth. While there is no single magic formula for success and no guarantee that adopting innovative ideas and practices will ensure greatness, considering the approaches we'll discuss here is the first step in developing your growth plan.
Grow your insurance agency by identifying unmet needs
Successful agencies tend to focus on unmet needs. They create new services or products and develop or capture new markets by looking for underserved or poorly served segments. Once growth-focused agencies identify needs or opportunities, they concentrate their resources (human, financial, technical, and others) in those segments.
To identify unmet needs, your agency should keep abreast of market trends and statistics and develop plans to address them. Knowing the facts may help you approach your target audience in a unique way that addresses customer needs.
Take a proactive approach to growth
Finding new revenue sources is critical, but it's just as important to maximize the potential from existing clients, products, and services. Agencies must devote resources to leaving no stones unturned when it comes to providing insurance coverage for clients. They must retain as many clients as possible.
Successful agencies grow by developing and executing plans to ensure every client is approached about products and services they aren't currently receiving. It's not unusual for the average agency to have clients they haven't spoken with in several years. When you compare how quickly lives and businesses can change in just one year, it's clear that lack of contact creates wasted opportunities.
To grow your insurance agency, be proactive and thorough in reaching clients instead of waiting for unpredictable circumstances to drive product demand. Successful agencies maintain contact with clients in systematic ways so no one slips through the cracks.
Reconnect with your market
Growth-focused agencies must also have an in-depth understanding of their target market, then craft solutions to address the market's needs and desires, even if the target audience is unaware they need those solutions. For example, policyholders risk not having household items, gifts, and other purchases covered. Insurance agencies can develop a value-added service to help consumers inventory their possessions. They can go another step and provide a way to keep inventory lists updated, even if it's as simple as sending a friendly reminder once a year. Research other possibilities and develop solutions to provide unique experiences.
Define and repeat processes
One of the most significant challenges for agency owners is identifying strategies and processes that help grow revenues. Agencies have tools and technologies but often lack processes to implement and measure strategies. The most successful agency owners follow processes that allow them to understand and meet client needs. By defining, repeating, and transforming these processes, you're better positioned to grow your insurance agency.
Become focused on growth
Successful agency owners are driven by growth, willing to make sacrifices, and ready to take risks to achieve. They view themselves as entrepreneurs. That focus on growth motivates them to work hard, vigorously pursuing a robust pipeline. Successful agencies realistically determine what a healthy pipeline looks like so they can meet sales goals. Then they hold their producers accountable and heavily weight their compensation based on attaining the established goals.
Plan, review, and adjust
To grow your insurance agency, you need a plan outlining required responsibilities, deadlines, tasks, and resources outlined. Even though you may not have the budget to pursue every goal immediately, a plan helps you keep your eyes on future goals by documenting them. Successful agencies also review plans frequently and regularly to gauge progress and adjust as needed.
Tighten up your finances
Most growth initiatives require capital, and successful agency owners make the investments needed to realize growth. Growing businesses reinvest capital for things like new employees and technology while shrinking companies struggle to manage costs while revenues decline.
Agencies need adequate cash flow or access to cash. Because they may need financing, agencies should work towards developing strong financials and good business credit. Without cash, opportunities are likely to slip away. Successful companies are also disciplined at maintaining good records. They keep critical documents organized and current. These include:
financial, bank, and commission statements,
book of business details,
contracts with carriers and other third parties, and
employee records.
Well-organized and well-focused insurance agencies are attractive clients for lenders, so developing a plan and documenting your operations enhance your ability to get access to capital so you can grow your insurance agency.
If you are thinking about growing your insurance agency and don't know exactly where to begin, please feel free to contact us. At Oak Street Funding, we have experts in lending who have helped hundreds of clients make their business goals a reality.
---
Disclaimer: Please note, Oak Street Funding does not provide legal or tax advice. This blog is for informational purposes only. It is not a statement of fact or recommendation, does not constitute an offer for a loan, professional or legal or tax advice or legal opinion and should not be used as a substitute for obtaining valuation services or professional, legal or tax advice.
By clicking on a third-party link, you acknowledge you are leaving oakstreetfunding.com. Oak Street Funding is not responsible for the content or security of any linked web page.