Moving From Stagnation to Success: Strategies for Business Owners
May 18, 2021 •Oak Street Funding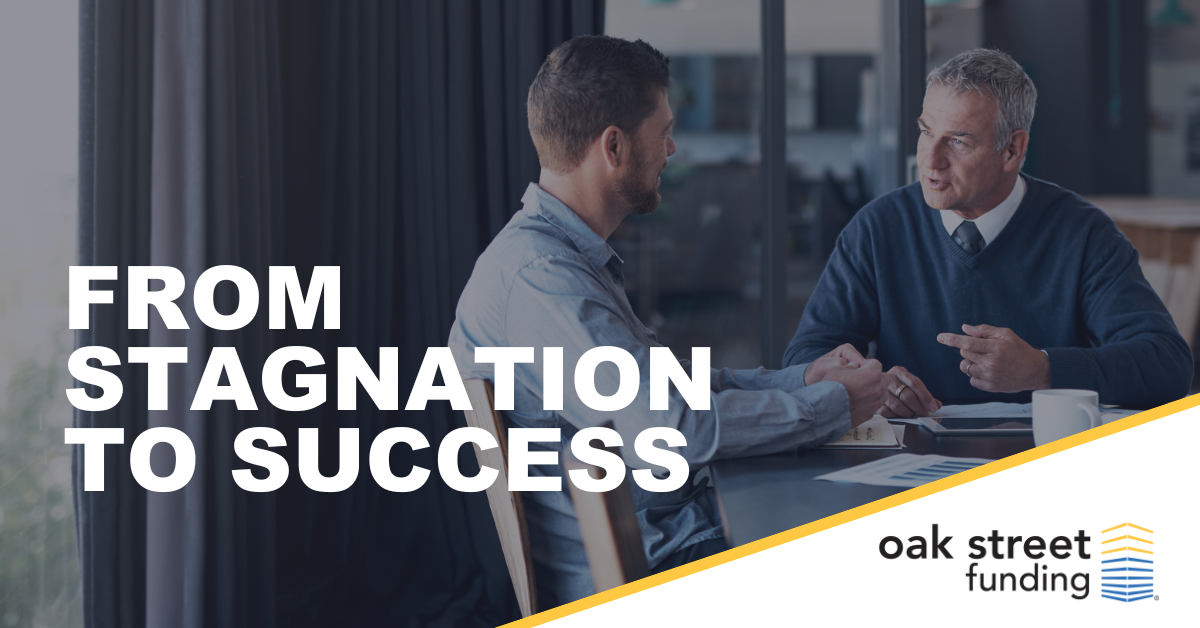 Successful business owners generally get that way not because they're smarter or luckier but because they have the drive and perseverance to get past those times when work becomes frustrating. Frustration can have many sources. Sometimes, it's because you've reached a particular level of business and can't seem to move any farther. At other times, the daily challenge of growing a business has become a grind.
Giving into frustration can be dangerous. If your business isn't moving forward, it's falling behind. Your competitors aren't standing still, and your lack of activity allows them to carve away at your business. Plus, medical research has determined that burnout increases the risk for heart attacks, heart disease, stroke, and sudden cardiac death as much as familiar risk factors such as smoking, high cholesterol, and high BMI. It can also lead to depression, anxiety, substance abuse, and a greater vulnerability to illness.
Fortunately, there are ways to reignite your business and regain your energy and positive attitude. Most of them are remarkably simple -- and you may already be doing them. In this post, we'll examine various practical ways to get your company moving in the right direction.
Successful business owners get away from it
One of the best ways to recharge your batteries and keep burnout at bay is to spend time away from your business by taking a vacation. Business owners who vacation regularly reduce their stress levels, reducing the potential for anxiety, depression, and medical conditions such as heart disease.
Even short breaks can help you clear your head and restore your energy. Include a half-hour walk or a workout in your daily schedule, and you'll also build up your physical strength. Commit to taking one afternoon off each week to do something you enjoy, whether that's golfing, fishing, seeing a movie, or taking part in community activities.
Successful business owners take honest looks If you're frustrated with your company's present situation or the direction in which it's headed, it may be time to stop and take a candid look at where you're at and how you got there. Most business owners think of a business plan as a document that's appropriate only when starting out. The thinking that goes into developing a business plan is even more critical for a going concern because developing a plan makes you examine every aspect of your company.
You must be able to detach your emotions from the process and remember that you're examining your company, not yourself. You also have to be completely honest with yourself. That's why you may benefit by bringing outside advisors into your review. They may spot things that aren't readily apparent from your point of view, and they can ask the tough questions that will help you get to the root of the problem.
One simple exercise is to look back to the last time you felt that you enjoyed your work. What changes took you from that to your present situation? If you can identify the factors that have affected your attitude, you'll be better able to choose the strategies that can turn things around. Most entrepreneurs thrive on challenges, and a sense that a company is stuck on a plateau may actually be a signal they are craving a new challenge.
Successful business owners rethink their workdays
Perhaps you're unsatisfied because you're not doing the right things, or you're forcing yourself to do work that you don't enjoy. For example, you may love to spend time working with clients but dread the process of setting appointments. Or it may be that you're continually being distracted from sales activities by the minutiae associated with running a business.
Be honest about the strengths you bring to your business and refocus your schedule to concentrate on them. If sales calls are the best use of your time, you may want to invest in an administrative assistant who can schedule appointments for you and handle the paperwork. If you think you can't afford such help, consider how much your revenues would increase if you devoted more of your time to sales.
Successful business owners try new directions
It may be time to renovate your business and practices. That doesn't mean simply redecorating the office (although that can boost your team's morale). Instead, it involves changing some aspects of how you do business.
You can get great ideas from talking to business owners in other industries. Sitting down for lunch or playing a round of golf with an entrepreneur in some other field may trigger concepts you've never considered. Those individuals can even serve as sounding boards for your ideas.
Successful business owners may combine forces
Sometimes, frustration and burnout are the results of recognizing the limits of our resources. The simple fact is that there are only so many hours in a day and only so many places we can be in the course of the week.
Suppose you feel you can't move past those limitations. In that case, it may be time to consider bringing your company together with others, such as through a merger with or acquisition of another company in your community or a nearby town. Combining forces can increase your potential for revenue while taking advantage of economies to trim your operating costs (for example, paying rent for one office instead of two). You might also consider combining or aligning your company with another business that provides complementary services to yours. You may be able to trim operating costs by sharing office space and administrative staff and build revenues by developing relationships with the other businesses' clients.
Successful business owners may also bring in new blood. Sometimes, hiring the right people can give your organization a powerful shot of energy and resources. Bringing new blood into a business tends to pay off in two ways. First, there's the additional productivity or revenue that the new employee tends to generate. Just as significant is the emotional impact that someone new can create. That person's enthusiasm tends to be contagious, bringing renewed energy to everyone else at the business (including you).
If you are thinking about an acquisition or expanding your business, please feel free to contact us. At Oak Street Funding, we have experts in lending who have helped thousands of potential clients determine if a loan from a specialty lender is right for them.
---
Disclaimer: Please note, Oak Street Funding does not provide legal or tax advice. This blog is for informational purposes only. It is not a statement of fact or recommendation, does not constitute an offer for a loan, professional or legal or tax advice or legal opinion and should not be used as a substitute for obtaining valuation services or professional, legal or tax advice.
By clicking on a third-party link, you acknowledge you are leaving oakstreetfunding.com. Oak Street Funding is not responsible for the content or security of any linked web page.