Acqui-hire: Using Acquisitions to Conquer Frustrating Job Markets
April 26, 2022 •Oak Street Funding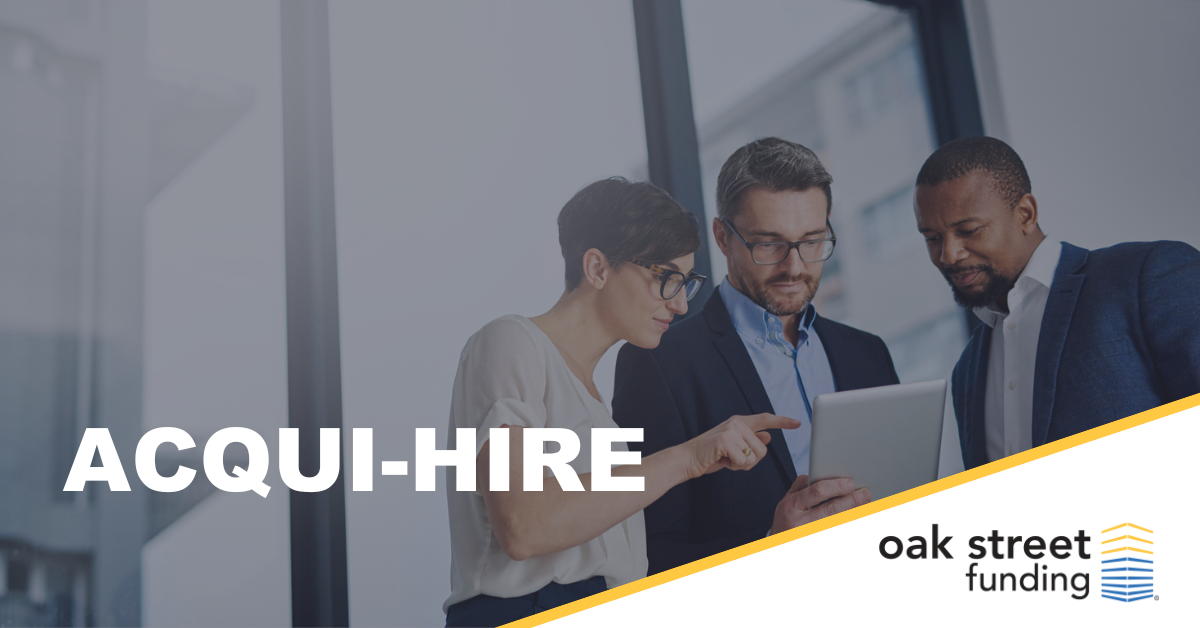 Acqui-hire may be a new term to many business owners, but it's becoming increasingly well-known as the struggles to hire show no signs of letting up during the tightest labor market most of us have experienced.
What is acqui-hire?
Acqui-hire is a quick way to describe the concept of companies acquiring other companies for the primary purpose of adding talent. In the wake of the pandemic and a fast-growing economy, employers of all types find it increasingly difficult to fill open positions. While some owners have dramatically increased pay rates in a desperate search for more talent, others have stepped back and taken the more strategic approach of buying up other companies. Employers eager to staff up discovered it was often faster and easier to simply buy another business and bring its employees into their team.
What makes acqui-hire faster?
Employers know finding new employees invariably takes more time and effort than expected, and that's especially true in the current employment environment. Each prospective employee must go through the application process, participate in one or more interviews, accept the position, give notice to their current employer, and be onboarded into their new role. If you're planning to hire several people at once, the timeline is likely to be even longer. By contrast, an acquisition may be accomplished in a couple of months, and you won't be forced to go through all the separate steps with each new employee.
Acqui-hire can be less risky
This approach can also reduce the risk associated with new hires. Many business owners have experienced the frustration of going through the entire hiring process, only to have a candidate reject the job offer or receive an incentive to stay at their present job. Because acqui-hiring involves bringing on a known group of employees who are accustomed to working with each other, and because the process typically takes less time, there's less risk a failed hire will cause delays. To further reduce the risk of acqui-hire failure, consult with your legal counsel to draft non-compete and retention contracts for the new employees. This will ensure they stay with your company and bring their clients with them.
A caveat: culture matters
Successfully using acqui-hire involves much more than simply finding sufficient headcount to meet your objectives. Bringing a group of new employees aboard isn't likely to succeed if your company's culture and values are drastically different from those of the company you're buying. For example, you may prefer a traditional, top-down management style, but if the company you buy gives its employees more autonomy in how they choose to do their work, there's a greater likelihood your new employees won't stick around. Do your due diligence to ensure your cultures and strategies align before getting serious about making a deal.
If the acqui-hire approach is right for your business, you'll likely need access to additional capital before proceeding. Even if your business is financially healthy, you may not have sufficient capital on hand or may not want to tie up a large portion of your working capital. Consider partnering with a specialty lender like Oak Street Funding® to tap into the future income you can expect to gain through your acquisition.
---
Disclaimer: Please note, Oak Street Funding does not provide legal or tax advice. This blog is for informational purposes only. It is not a statement of fact or recommendation, does not constitute an offer for a loan, professional or legal or tax advice or legal opinion and should not be used as a substitute for obtaining valuation services or professional, legal or tax advice.

By clicking on a third-party link, you acknowledge you are leaving oakstreetfunding.com. Oak Street Funding is not responsible for the content or security of any linked web page.