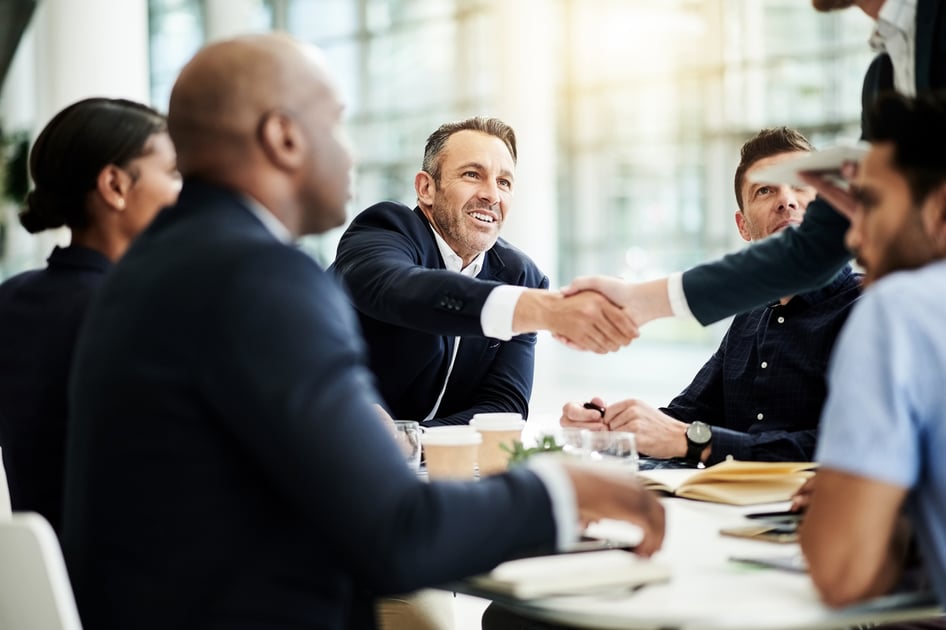 Practical steps for creating an interview process to understand if a new acquisition will fit your culture
Companies merge with and acquire other companies to increase market share, gain economies of scale, add new capabilities, and pursue other strategic goals and opportunities. While the structures of the organizations may be similar, the success or failure of mergers and acquisitions often comes down to how well the two organizations' cultures can be integrated.
One way to get a sense of how well employees of the company you've acquired or merged with will mesh with your company's culture is to conduct interviews with them.
In this post, we'll explore some practical steps for creating an interviewing process to understand if the new acquisition will fit your culture.
The value of interviews
Beyond culture fit, interviews can help you prepare for a common consequence of acquisitions: the need to eliminate potentially redundant positions.
It's likely your company has existing positions that are duplicated in the company you're buying. Since you probably don't need two accounts payable associates or marketing managers, you'll need to determine whether the individuals in those redundant roles should be moved to a different position or given encouragement to seek employment elsewhere.
By conducting interviews with all of the employees at the newly acquired company, you can better understand how to structure the combined acquisition. You should also be able to determine the level of enthusiasm your potential new employees have about the combined company.
Some may be eager for new opportunities and the chance to take on different responsibilities. In contrast, others may resent the idea of shifting from what has become a comfortable role into something that will be different.
First, assess cultures
Before interviewing individual employees, it's beneficial for the acquiring company to investigate the internal culture of the other company. That should begin during the due diligence phase of the transaction and continue through every step of the process.
Culture investigation can help mitigate the potential adverse effects of clashing cultures, which can be one of the most significant risks to achieving a successful combination. If the two cultures do not mesh well, conflict between the two sets of employees is likely to occur, productivity will be lower than expected, and it may take significantly longer for the effects of the combination to settle down.
A helpful tool when evaluating cultures is to develop a simple survey about preferred work environments, working styles, supervisory approaches, compensation, and similar factors. The survey can be sent to both sets of employees, with responses anonymous (aside from which company they're part of), providing insight into factors that might pose a source of friction.
Develop the interview process
Beyond the anonymous survey results, it is important to actually speak with the employees of the company being acquired.
Interviews of these employees should take place after the transaction is agreed upon but well before the deal closes. There are two reasons for this timing.
First, it gives the acquirer plenty of time to study the information gathered during the interviews and identify any changes that may need to be made when it's time to combine the organizations.
Second, conducting the interviews early in the process should minimize anxiety and uncertainty on the part of employees of the company being acquired, especially if the interview process allows them to ask questions about leadership's plans for the combined company.
Interviewing can take substantial time and effort, and the leadership of the target may be tempted to limit interviews to just those individuals whose positions might be in question. However, investing the time to interview everyone at all levels of the company will make the process appear to be more equitable and reduce the likelihood of rumors emerging about who might be asked to leave.
Taking the time to interview all employees also sends the message that the acquiring company's leadership cares about what employees think, improving morale and reducing anxiety.
Announcing the interviews
The leadership of both companies should jointly notify the employees of the company being acquired that interviews will be scheduled. The purpose of the interviews can be stated as an opportunity to learn more about each individual, their skills, their role, and their career objectives and give them a chance to ask about the combined company's future.
Scheduling adequate time for each interview and leaving space between interviews will prevent them from seeming rushed and allow discussion of critical issues.
Conducting the interviews
It can be helpful to follow a standard format and ask each interviewee to submit a resume or similar work summary in advance of the interview to provide background information. The employees should feel they have the interviewer's undivided attention and can speak freely.
Conducting these interviews should be viewed as fact-finding sessions, which will later help inform which positions and personnel are critical in the combined company.
Before conducting each interview, a framework for evaluating employees should be developed. Employers can draw upon the classic SWOT analysis and consider what they see as the employee's strengths and weaknesses, any opportunities they may offer the combined organization, and any threats their departure may create.
For example, suppose the interviewer discovers the employee has a background in marketing and the combined company plans to step up business development efforts. In that case, the employee may be able to play a key role in making the business development happen. Or, if the interviewer recognizes that an employee has solid relationships with key clients, there may be a greater risk of leaving and taking clients with them if they are unhappy.
Keep in mind all employees are likely to be apprehensive about the acquisition. Look for the people who express eagerness about potential opportunities and accept the reality of the coming change.
The people who appear to resent or seem threatened by the acquisition may not be ideal candidates for the combined company. Once the interviews are complete, you should have a clearer picture of how the overall team should be structured moving forward.
Getting the funding you need for the acquisition
Mergers and acquisitions require funding for the transaction, and it's often a good idea to boost working capital for unexpected costs that may crop up during the transition. Traditional lending sources such as local banks that focus on collateral-based lending may be uncomfortable with funding a significant transaction and providing additional capital to support successful outcomes.
That's when it can be beneficial to borrow through a specialty lender accustomed to working with your industry.
Such lenders understand how a business like yours operates and are familiar with the nature of your income streams so that they can approach the underwriting process with realistic expectations and an appreciation for inherent risks.
A growing number of business owners in your industry are turning to specialty lenders like Oak Street Funding, who are accustomed to working with businesses like yours. If you would like to understand how we can help, please contact us. We have lending experts who have helped hundreds of clients with their capital needs.
---
Disclaimer: Please note, Oak Street Funding does not provide legal or tax advice. This blog is for informational purposes only. It is not a statement of fact or recommendation, does not constitute an offer for a loan, professional or legal or tax advice or legal opinion and should not be used as a substitute for obtaining valuation services or professional, legal or tax advice.
By clicking on a third-party link, you acknowledge you are leaving oakstreetfunding.com. Oak Street Funding is not responsible for the content or security of any linked web page.