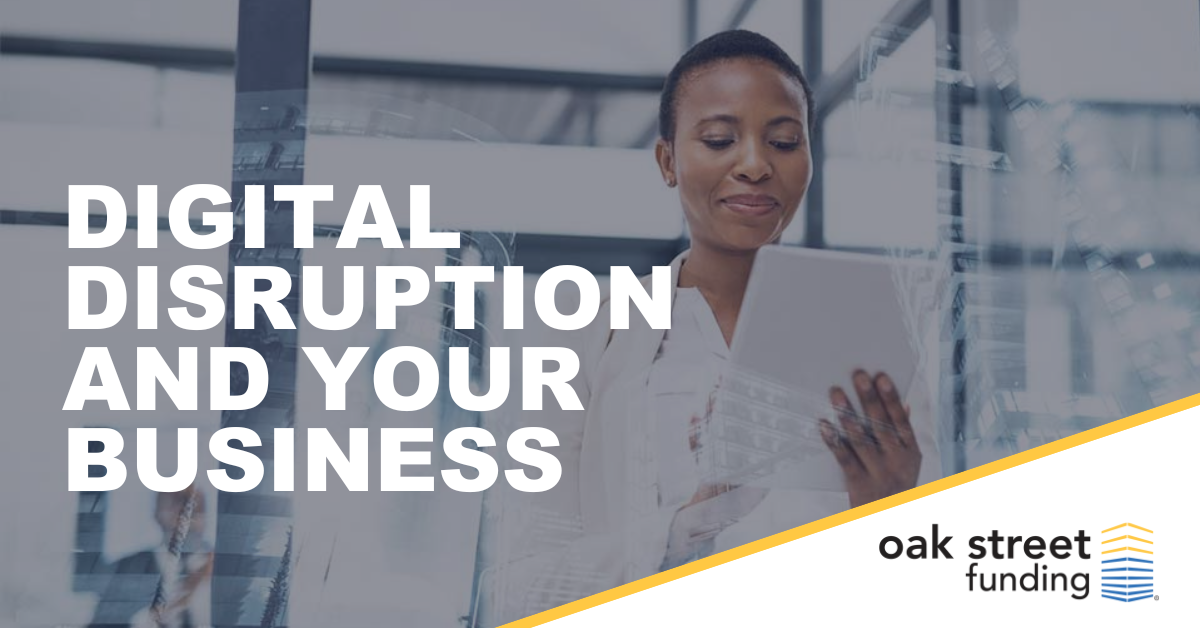 It's a safe bet that most taxi companies never saw Uber® coming, or that local bookstores never envisioned the dominance of something called Amazon®. Kodak® was a household name until everyone started taking photos with their phones. Those are three of the best-known examples of digital disruption and how it affected traditional businesses. While you may think your company's business model is safe from the next app, it's critical for company owners to think about how digital disruption is impacting your relationship-based business.
Though it may not appear as though digital competitors have entered your marketplace, the reality is digital disruption in other industries has led to significant changes in customer behavior and expectations. Even if you market primarily to businesses, the individuals who make the purchase decisions are still consumers.
If your customers can have Thai food delivered in 15 minutes and receive office supplies the same day by tapping a few buttons on their phones, they may wonder why they have to talk to a human in your office to obtain products or services.
Whether you're already facing direct competition from a slick website or new platforms, or whether you believe your customer relationships are safe for the time being, it's an excellent time to take a closer look at how you do business in light of what today's customers expect.
Innovate, don't duplicate
One common approach when longstanding business models face disruption is trying to keep up or match what the disruptor is doing. Businesses may decide that if a competitor has nifty technology, they just need to get technology of their own. Unfortunately, that's rarely effective because the disruptor usually has the lead and may have more significant financial resources. Typically, most digital disruptors offer technology that is "superior" to the rest of the marketplace. However, "superior" does not necessarily equate to just the technology, but more importantly it usually profoundly simplifies the way customers access products or services.
Instead of trying to duplicate what a disruptor is doing, a more effective approach is to use the disruption as inspiration for improving your business and its processes. When a company is focused heavily on building relationships, that means taking a closer look at how you and your team are managing your end of the relationship. If you can identify or create, and then leverage genuine competitive advantages, you'll be able to increase the value customers see in your services and make them less likely to move to a competitor.
Avoid vague platitudes
Too many businesses give credit for their success to general terms like "our service" or "our people." They're proud of their history and how their team helps customers. But vague terms like "service" don't define what makes your company different -- and have you ever heard a competitor brag about their inferior service? "Service" and its counterparts become less meaningful over time.
It's likely that your people and approach to service have indeed been key to what you've accomplished. However, in an era where digital disruption is growing, you need to think about engagement with your customers in a new light.
Speak their language
Knowing and explaining your company's value proposition is more important than ever before. And, it's even more critical for you to do that in ways and words that are more meaningful to your customers. You may have a solid understanding of why it matters that you deliver a specific service in a certain way, but if your customers don't share that understanding, it isn't creating any value for them. The more effort you make to understand customer needs and identify their pain points, the better you'll be able to respond with a competitive advantage that improves their experience and overall satisfaction.
Strategies for engagement
How can you do that? Several strategies can help you examine your relationships in ways that will drive positive change.
Become human. So often, organizations emphasize the company. However, people prefer to do business with other people, not companies. The most successful producers understand that concept. They get to know their prospects and customers, treat them like the individuals they are, and demonstrate a genuine interest in their needs and challenges.
Educate, don't assume. Are your customers using your services and other offerings to the fullest? You may have told them you offer various services, but you can't expect them to remember everything about you. Make education an ongoing process. Use digital channels such as social media, email, and e-newsletters as a way to remind them about how you can help them. When talking with customers about one service, make it a habit to cross-promote another that may be a logical connection.
Grasp the value. Learn what customers value about your business and then turn it around by finding new ways to make it even better. If they appreciate your team's responsiveness, invest in systems that allow for even faster responses. Likely, the factors your customers value most will also be desired by other potential customers.
Practice consistency. As you adapt the company to meet customer needs, reassure them that what's really important won't change. Your team will continue to embrace the fundamental values and tenets that have consistently earned their trust.
Funding your changes
Adapting your business to meet changing customer expectations and market pressures can be costly, and you may not want to tie-up a large chunk of your working capital. That's when financing from a specialty lender may be your best option.
Unlike traditional banks that are accustomed to making collateral-based loans and may be uncomfortable with funding the changes you hope to make, specialty lenders that focus on your industry offer innovative funding strategies. For example, Oak Street Funding can support your objectives by structuring a loan based on the revenue streams the improvements will create. Our team understands businesses like yours and have help hundreds of customers leverage capital to keep up with the ever-changing needs of the marketplace.
*This is general business information and should not be taken as legal advice. It's critically important to consult with knowledgeable professionals such as an attorney and a CPA who have expertise in funding a business to guide you in making the right choices for your situation.
---
Disclaimer: Please note, Oak Street Funding does not provide legal or tax advice. This blog is for informational purposes only. It is not a statement of fact or recommendation, does not constitute an offer for a loan, professional or legal or tax advice or legal opinion and should not be used as a substitute for obtaining valuation services or professional, legal or tax advice.