The Complexities of Energy Deregulation in the American Northwest
February 17, 2022 •Oak Street Funding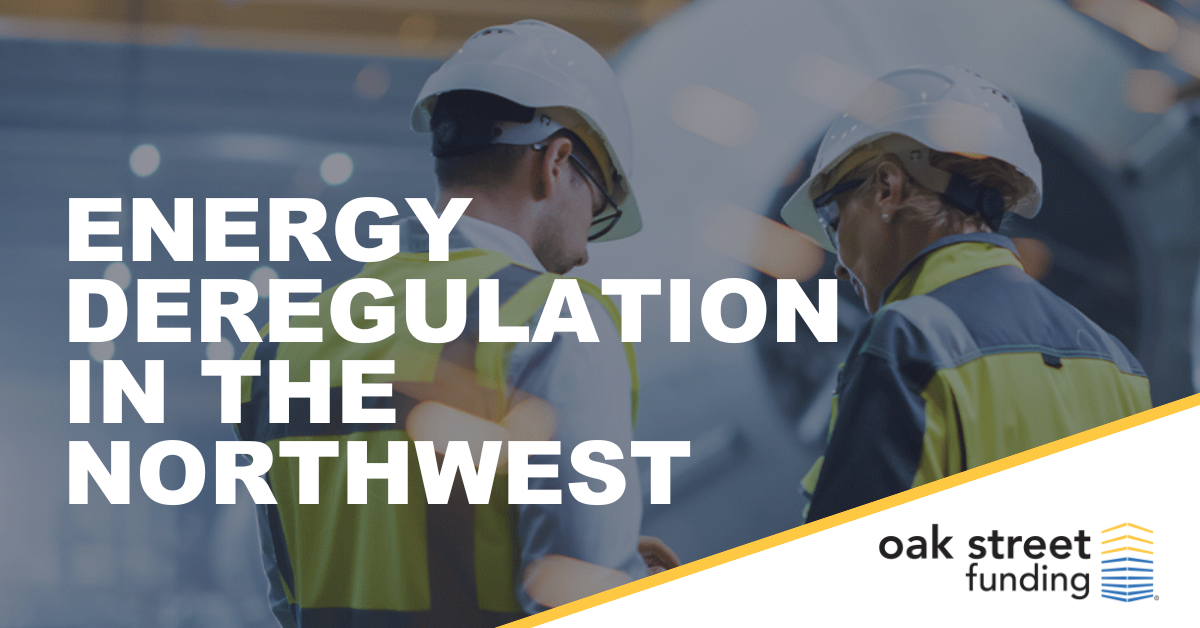 A key foundation of the U.S. economy has been the availability of affordable and reliable energy. Today, perhaps more than ever before, consumers and businesses are sensitive to rising prices and system disruptions. When energy deregulation began decades ago, it included the separation of power generation from transmission and distribution.
This move was intended to promote competition and lower energy prices without compromising reliability. Deregulation continues to be a work in progress, with varying levels of adoption and acceptance throughout the nation. Hoped-for reductions in energy prices and increases in the number of energy sources generally have yet to be realized.
The California energy crisis of the early 2000s prompted many to raise questions about the effects of energy deregulation. At that time, the state experienced higher prices, encountered energy shortages, and had to deal some of its major utilities being pushed to the brink of insolvency or bankruptcy. With several interventions and some added limitations that varied over time, these problems stabilized for California, and the state eventually deregulated its energy sector again.
As energy brokers and ESCOs consider opportunities to capitalize on the potential of deregulation efforts in the American Northwest, they would be wise to pay heed to the lack of progress in western states and develop a solid understanding of the underlying factors.
Deregulation in the Region
As is evident on the chart of deregulation status by state, the Pacific Northwest has been slow to embrace programs. One factor may be federal control of much of the region's production and transmission of hydropower, a significant source of electricity in the region. Because federal agencies were not established to compete directly with private-sector utilities, opportunities for deregulation may be more limited here.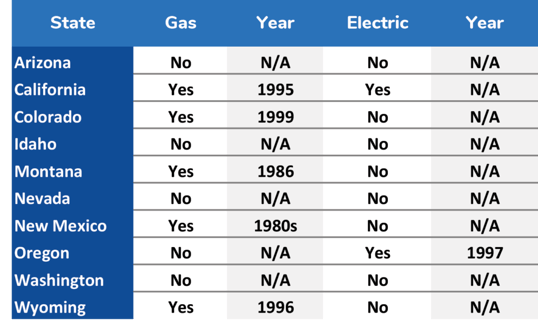 Other complexities affect deregulation's potential impact in the Rocky Mountain Region and other parts of the West. For example, many residential and certain commercial customers in Wyoming, Montana, and New Mexico have the opportunity to choose their natural gas provider.
On the other hand, Colorado law allows natural gas utilities to offer choice programs to consumers, but utilities have not proposed any programs to date. Nevada, while still regulated, gives a small number of commercial and industrial customer gas choices based on consumption.
And while Arizona saw energy deregulation sidelined by regulatory order in 2004, the state has explored a pilot electric choice program for some of its biggest industrial users.
In the end, it is only California that offers its residents electric and gas choices, often based on geographic location. For electricity, the California program is known as Direct Access. While for natural gas, it is referred to as Core Aggregation.
Reliability Concerns
Another issue affecting progress toward energy deregulation throughout the American West is the safety, reliability, and security of the region's power grid. For example, while California has earned positive attention for its widespread use of renewable energy technologies including biomass, geothermal, solar, and hydroelectric, issues such as rolling blackouts and wildfires triggered by power transmission infrastructure have led to concerns among energy users.
If the Pacific Northwest is to pursue widespread deregulation programs, users will need to feel confident that power can be delivered to end users safely and reliably.
The prospect of climate change has also driven discussions about the need for improvements of all types of infrastructure, and funding for that purpose is the Biden administration's signature legislative effort. That attention reinforces the need for the energy sector to invest in strategies that will:
Maintain and secure our current grid infrastructure
Promote clean energy production and solve for energy storage challenges
Encourage adoption of smart technologies
Overcome resistance to change
An example of resistance to change in the Rocky Mountain Region is the opposition to transmission lines to deliver wind energy from Wyoming, where it is most reliable and abundant, to California. Not only have a number of landowners expressed opposition (and a need for greater compensation), but the federal Natural Resources Conservation Service has established an easement that blocks the path of the proposed transmission lines.
As demand for energy continues to increase across the West, the risk of insufficient energy resources will grow. The prospect of shortfalls has prompted many states to establish a more formal system of sharing capacity across state lines in order to avoid blackouts.
Renewable energy advocates hope the combination of additional sources, stronger partnerships, and better communication between states, power sources, and utilities will ensure reliability while reducing greenhouse gas emissions.
Business Opportunities
Challenges such as the present energy market often lead to innovative solutions, and there are opportunities for visionary businesses to find better ways to address the issues. The continued threat of climate change, pressure to reduce greenhouse gas emissions by replacing fossil fuels, and population shifts across the West suggest a need for both new capacity and better utilization of existing resources.
The time is ripe for the private sector to step up and create solutions, and for innovative ESCOs and energy brokers to develop better ways to serve local energy customers.
If you are an ESCO or energy broker seeking to capitalize on the opportunities made possible by the present environment and the prospects for energy deregulation, you may need access to additional financial resources to help you grow your business.
While traditional capital sources such as community banks may be uncomfortable funding ideas outside the mainstream, specialty lenders such as Oak Street Funding have a deeper understanding of your market and can help you develop a funding strategy suited to your company's unique needs.
---
Disclaimer: Please note, Oak Street Funding does not provide legal or tax advice. This blog is for informational purposes only. It is not a statement of fact or recommendation, does not constitute an offer for a loan, professional or legal or tax advice or legal opinion and should not be used as a substitute for obtaining valuation services or professional, legal or tax advice.
By clicking on a third-party link, you acknowledge you are leaving oakstreetfunding.com. Oak Street Funding is not responsible for the content or security of any linked web page.