A Formula for Growing and Enhancing Insurance Agency Value
October 4, 2022 •Oak Street Funding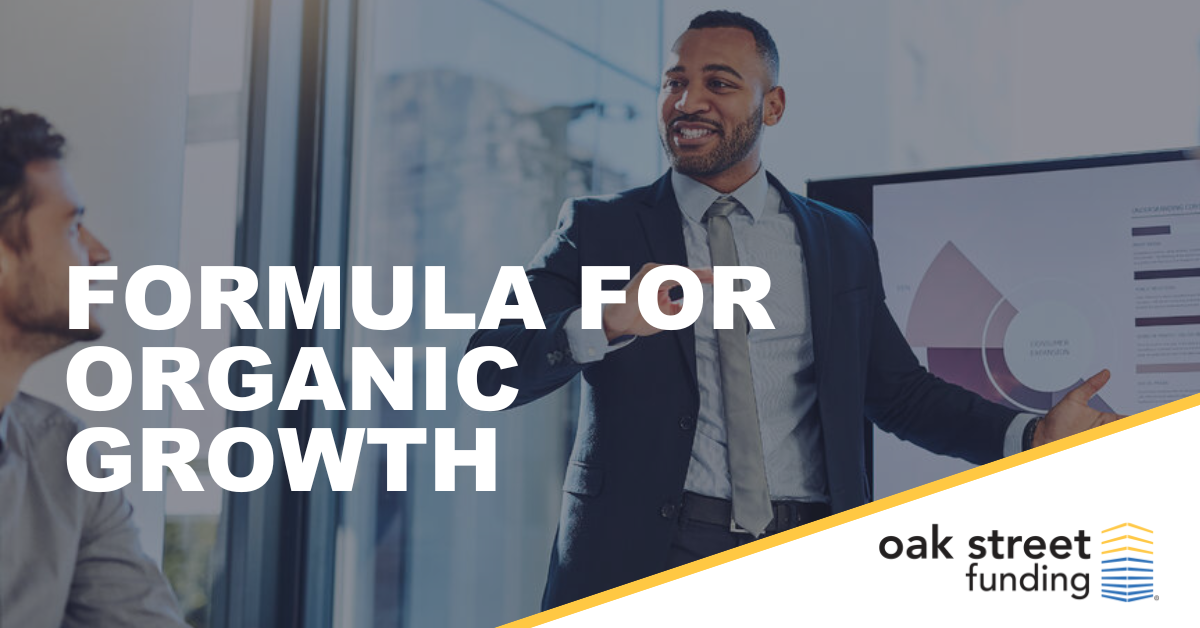 Insurance is a highly competitive business, and insurance agents use a wide range of strategies to grow and enhance the value of their agencies. Not surprisingly, certain strategies work better than others. Unfortunately, some insurance agents use strategies based on a gut feeling and are never sure they're taking the right steps to maximize the value of their agencies.
Enhancing your agency's value is too important to trust to chance. Fortunately, there are experts, such as F. Scott Addis, who can provide data-backed best practices to fuel agency growth. CEO of Beyond Insurance, Mr. Addis, CPCU, CRA, CBWA, embarked upon what's believed to be the most expansive research study on organic insurance agency growth. Starting in 2002, his company surveyed thousands of insurance agents and brokers throughout the U.S. and conducted over 500 interviews to identify the top characteristics that fuel organic growth.
Importance of organic growth
When identifying successful strategies, Addis believes it's critical to focus on what's known as organic growth. That's the type of business expansion agencies achieve by increasing output, sales, or both simultaneously. He describes organic growth as "pure growth from within," and views it as a solid indicator of how well an agency's owners and managers use the resources available to them internally to achieve the high performance they desire.
Organic growth strategies are not dependent on external factors such as the health of the economy. Instead, they identify an agency's ability to:
Attract new customers,
Retain customers,
Expand relationships with customers, and
Leverage those customers as members of the agency's sales team.


A formula for growth
Addis encapsulated these successful strategies into a simple equation he calls the Organic Growth Formula. Simply written as "P5 x I3 + F2 = Organic Growth," this formula incorporates all the factors needed to achieve such growth.

P1 = Process: Have a clearly defined, written process of how you will add value to your products or services that will help them stand out.
P2 = Packaging: Does your packaging appeal to your target market? Evaluate your packaging to make sure it stands out from the competition.
P3 = Positioning: A well-designed, eye-catching package is ineffective if it is introduced at the wrong time. While designing your packaging, research the most effective time for deployment.
P4 = Purpose: It is important that your employees understand their purpose within the agency. Have a clearly defined mission and purpose to build alignment.
P5 = Passion: Without passion, employees and clients will feel disengaged from the purpose. Share your passion with those around you and it will grow.
I1 = Issues: When creating your process and package, it is vital to anticipate issues. Be willing to address the issues as the arise. Don't ignore issues and pretend they do not exist.
I2 = Implications: After uncovering the inevitable issues, communicating the implications is vital. Consider the implications from all angles, human, cultural, operational, and financial, to help mitigate risk.
I3 = Interventions: Partner with employees and clients to address the issues. When you have properly communicated the issues and implications, you will build trust with all involved.
F2 = Fanatical Fans: Through deployment of P5 and I3, you will build a network of clients, employees, carriers, and centers of influence that champion your agency.
Together, these elements will propel your agency's organic growth. With this formula you will also gain better clarity and insights into your growth strategy. Plan to revisit the formula and update it frequently as your agency grows.
The next steps for your agency
Part two of Addis' strategy for organic growth highlights 20 best practices of insurance agencies that rank as high-performing when it comes to generating organic growth. While few agencies exhibit all 20, the higher the performance in a given agency, the more of the best practices they are likely to follow. Check back for blog post #2 where we will share those practices so you can incorporate them in your agency.
As you evaluate your organic growth strategies you may find a need for funding. We can help insurance agencies obtain the capital they need to move forward with their growth strategies. We provide loans based upon future cash flows of your agency, allowing you to use your future increased revenues to fund growth. Our lending experts have helped thousands of clients make the best lending decision for their specific needs. Contact us today!
---
Disclaimer: Please note, Oak Street Funding does not provide legal or tax advice. This blog is for informational purposes only. It is not a statement of fact or recommendation, does not constitute an offer for a loan, professional or legal or tax advice or legal opinion and should not be used as a substitute for obtaining valuation services or professional, legal or tax advice.