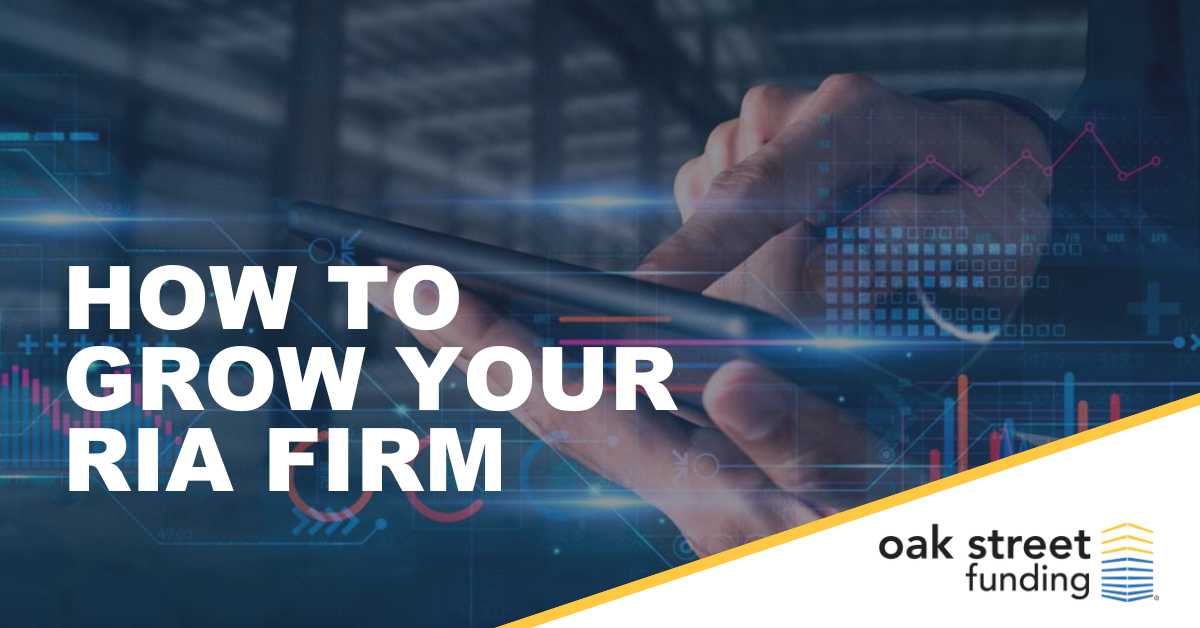 Growth is vital to stay relevant, effective, and profitable, but many RIA owners aren't sure how to grow their firm. In a recent interview with Oak Street Funding, David DeVoe provided guidelines and best practices for firms to increase their growth rate based on the model of what he calls a meta firm.
What is a meta firm?
Meta firms have set the bar for effective growth strategy. These firms excel by employing the Most Effective Tactics Available. DeVoe classifies only 0.25% of all FCC registered firms are meta firms. These large firms have maximized the full extent of their resources to provide exceptional service with a laser focus on growth. They run superior businesses, have happier clients, and provide excellent career paths for their staff. A meta firm has an increased service set with more capabilities to serve clients. So how do they do this and how can smaller firms compete with a meta firm?
Singular Focus
Meta firms are dialed into a singular purpose. DeVoe said, "That purpose should be woven into the fabric of the story you tell about your organization; it's a value proposition that you all agree on and say, this is how we tell our story." In a firm with multiple advisors, it's imperative that all advisors are sharing the same story and have the same focus. Without a clearly defined story, the team loses their cohesiveness and clients receive mixed messages from the firm.
Multiple Approaches to Organic Growth
The most growth comes when a firm has multiple, integrated approaches to growth. A few foundational approaches include committing to the firm's mission, selling the story of the firm, specifying the target client profile, and investing in technology. "When you have five or six different integrated components, that's where sustainable growth occurs, as opposed to only focusing on one or two of these elements," said DeVoe. For example, client referrals are going to generate 42% of your growth and centers of influence are going to drive 18% of your growth. Many firms will only focus on one of these initiatives at a time, but a meta firm focuses on both initiatives plus others to maximize their growth rate.
The Importance of Specificity
Most RIAs believe they should target the widest client pool possible. However, the more strategic approach is to concentrate on a smaller segment of clients. This approach is unintuitive to many, but David DeVoe explains why it works. "When you cast a wide net for client referrals, it's just a blur that washes over the client or whoever you're talking to. By contrast, the more specific you are, the more they'll think of someone to refer to your firm. That's really where you shine." You're more like to get referrals when you've provided exact details of what type of client you are looking for because those details will stick in people's minds.
Inorganic Growth Through Acquisition
Meta firms are successful serial acquirers of other RIA firms and CPA practices. The most important key to a successful merger or acquisition is the integration of staff and clients into the new firm. The transaction must have intentional, critical alignment of how client relationships are handled and deep trust within the team. These are big, emotional aspects that aren't often on the checklist of things to be thinking about when you're acquiring a firm, but they are critical.
Continued Growth During Disruption
Advisors must focus on growth, especially during challenging times. In fact, disruption often provides the most opportunities for growth. The strongest firms continue to tell their story, sell, and take care of their clients. Then, when the hard times are over, these firms are seen as the heroes who kept growing despite disruption. DeVoe explained, "Anytime life is hard and complicated for the US is an opportunity for RIAs. It's just the wiring of good RIAs to lean in and take care of their clients. After a crisis, their clients say, "I was taken care of through this process, I felt great," and their friends say, "I couldn't get my broker on the phone. Can I talk to your person?"" The firms that keep focused on growth during disruption will see the most increase in value after the crisis.
---
---
Conclusion
Even small to mid-sized firms can realize superior growth rates by taking pages from the playbook of a meta firm. If you need capital to achieve your growth strategies, Oak Street Funding is here to help. Please feel free to contact us and see how a loan from a specialty lender fits your firm's needs.
---
Disclaimer: Please note, Oak Street Funding does not provide legal or tax advice. This blog is for informational purposes only. It is not a statement of fact or recommendation, does not constitute an offer for a loan, professional or legal or tax advice or legal opinion and should not be used as a substitute for obtaining valuation services or professional, legal or tax advice.