How to Build the Next Generation of Leaders For Your Business
June 7, 2021 •Oak Street Funding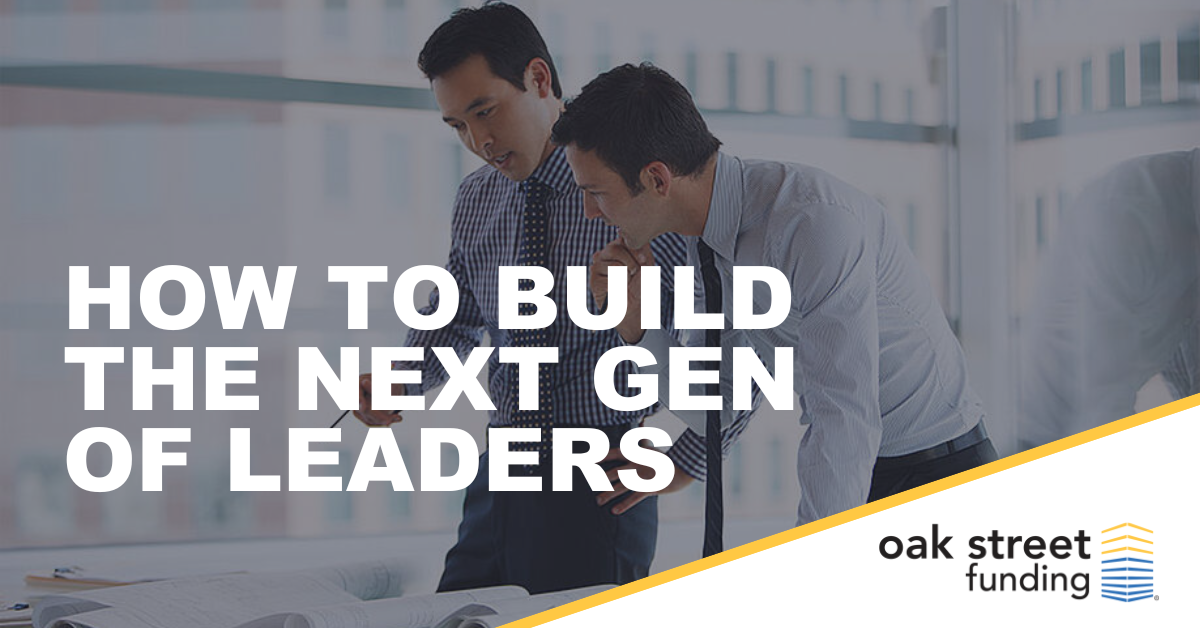 It's not unusual for business owners to wonder where they will find the next generation of leaders. They may look at their current employees and conclude they don't have the expertise or motivation it takes to run a business successfully. However, if you're a business owner who's nearing retirement age, you may wonder who will be there to take your place. You can leave it to chance, or you can begin to develop the next generation of leaders today.
Who's in your next generation of leaders?
If you have a solid plan for your company's future, you're already ahead of many of your peers. But if you don't also have a plan to mentor and develop the people who will make that future happen, it's time to do so.
Identifying the next generation of leaders
Proper planning allows you to identify those who will play a leadership role in the future of your business and also where you may have gaps you need to fill. However, identifying your future leaders is only the first step. You also need to help them develop the skills and gain the knowledge they'll need to serve in those roles, as well as a way to monitor and track their progress. After all, you don't want to head into retirement if your team is not 100 percent ready.
Improving employee retention
The most effective employee retention strategies focus on developing career paths that keep employees challenged and make them feel like significant contributors to the company's success. Team members like to know what role they'll play in your current and long-term strategic business plan. Those who see their part as integral are less likely to be pulled away by a competitor.
Rise of the Millennials
There's another issue associated with preparing the next generation of leaders: the profound shift in our nation's population. As the Baby Boomer generation retires, a larger share of the workplace is comprised of the generational group that's typically labeled "Millennials." You've probably heard many stereotypes about Millennials, poking fun at their perceived habits and flaws, but the reality is that they have a different view of the world. Raised in a different time and environment, they don't view things the same way Boomers do.
Different generation, different attitudes
If you're part of the Boomer generation, you likely started your career with the attitude that you'd find an entry-level role and then work hard to earn a shot at leadership. You were happy to have a job and didn't hesitate to hustle to prove yourself. While it's impossible to characterize an entire generation, you've probably noticed that many of the younger people you're interviewing and hiring bring a completely different set of attitudes and values to the workplace.
Common traits of Millennials
Observers have noted that Millennials seek more than a paycheck. They want to feel valued in the workplace and enjoy the work they're performing. They want to have confidence in you and your company's other leaders. Most of all, they want to be treated as a unique individual instead of just another employee.
Millennials have been raised to be team players, working on group projects from their earliest days in school. They're accustomed to working with collaborative technologies, and they're used to having a say in decision-making.
Millennials value time
Few things are more important to Millennials than time. Raised in an over-scheduled generation, they place a premium on flexibility and free time. Instead of a typical 9-to-5 job in a cubicle, they want the freedom to set their hours, work where it's convenient, and be judged by deliverables rather than by the hours they clock. Millennials also expect access to the latest technology and will be turned off by strict policies about cell phone use or accessing social media while at work.
Don't assume you know what employees want
Many business owners believe they instinctively know what their younger employees want from their jobs and careers. They're likely to be surprised when those employees move to a competitor or change careers. It's important to talk with your employees regularly (at least twice a year) to understand their own career goals and level of satisfaction with their positions.
Rather than a performance review, you will be discussing opportunities and helping your employees identify what both of you will need to do in order to prepare them for those opportunities. As you help them develop a roadmap for their future, be sure to include measurable objectives so they can track their progress. When you take the time to help them develop, you'll strengthen their loyalty.
Make data capture part of leadership development
Adding a rigorous data-capturing element plays a critical role in leadership development. By quantifying and tracking your team members' skill and knowledge levels, you can immediately identify gaps you need to address. Just as important, an effective data-based system will allow you to see how many potential candidates will be available for each role within the next year, the next five years, and so on. That way, you can determine whether you need to hire and precisely what skill sets those new team members will need to bring with them.
To determine the data you need to measure and manage, start with the job skills and leadership characteristics you view as most important to your company. Look at your current performance assessment tools to ensure you measure those factors. Address categories such as experience, strengths, weaknesses, and career goals, so you can quickly identify the training, mentoring, and experiences each team member needs to match your expectations.
Creating a strong pool of future leaders
Companies that take the time to address leadership development create a strong pool of candidates who have the right skills. Another benefit of this type of analysis is that it gives you options if an employee leaves unexpectedly, passes away, or encounters significant health issues. Instead of being unprepared, you can quickly determine which current team members are best suited for the vacated role.
Be willing to invest
As you begin to prepare your company's future leadership team, you may need to consider investing in technology, training, space, or other areas. If you don't have excess capital on hand, you'll probably need to borrow, but remember that you'll be funding costs that should improve your revenues and overall profitability.
If the next step for your business involves an ownership transition, please feel free to contact us about a succession loan or a partner buy-in loan. A working capital loan can also provide the cutting-edge technology necessary to attract and keep top talent. At Oak Street Funding, we have experts in lending who have helped thousands of potential clients determine if a loan from a specialty lender is right for them.
---
Disclaimer: Please note, Oak Street Funding does not provide legal or tax advice. This blog is for informational purposes only. It is not a statement of fact or recommendation, does not constitute an offer for a loan, professional or legal or tax advice or legal opinion and should not be used as a substitute for obtaining valuation services or professional, legal or tax advice.
By clicking on a third-party link, you acknowledge you are leaving oakstreetfunding.com. Oak Street Funding is not responsible for the content or security of any linked web page.