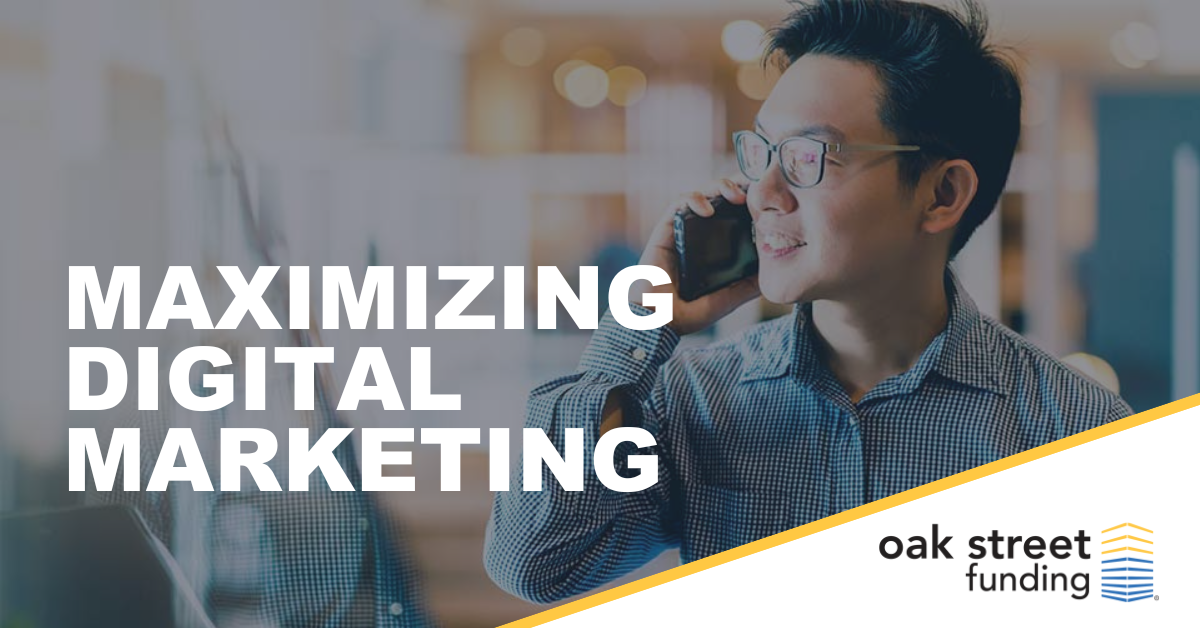 Businesses take pride in being unique and deliver what they perceive as superior products and/or services to their target audiences. Simply offering such products and services is rarely enough to fuel business growth. That's why businesses turn to digital marketing and sales efforts to expand awareness of what they do and why they do it better.
Strategies such as erecting signage and placing advertising have been around for decades, but recent advances in digital technologies have dramatically changed how most businesses promote themselves. Maximizing digital marketing to grow your business can be a sound approach if you proceed strategically.
Advantages of digital marketing
Digital marketing has been around since the internet was invented back in the 80's. So, relatively speaking, it is still new compared to other marketing strategies. However, adoption of digital technologies has been swift given the innovation and investment major companies such as Google®, Amazon®, Apple®, Microsoft®, and others have made to develop user-friendly 'digital' products and services, such as computers and cellphones.
Many businesses have shifted to maximizing digital marketing strategies given the rapid customer adoption of these technologies.
Targeting customers
Another, more practical reason for the shift to digital marketing is it allows businesses to target marketing messages to specific customers and marketing segments. As companies and large data-based businesses like Google accumulate an increasing amount of information, that data can be used to focus efforts better.
In the past, a company that wanted to reach a specific segment such as family-owned manufacturers might buy an ad in a general-interest business magazine. While the manufacturers may have read that magazine, so did many more business owners who have nothing to do with manufacturing, so a large portion of their investment was effectively wasted.
Ability to track
Digital marketing is also easier to track than non-digital approaches. If that same company runs an ad, it knows that 750,000 copies of the magazine were printed but has no idea how many of those people read the ad.
If a company instead uses email marketing, it can determine how many messages were distributed, what percentage were opened, how much time readers spent looking at the message, and which links they clicked on. The level of accountability provided through analytics makes it much easier to determine the effectiveness of marketing efforts and provides insight to fine-tune them.
Testing
Another advantage of many digital marketing strategies is that you can conduct a small test to give you a sense of what a more significant effort might produce. For example, if you're considering spending $50,000 in pay-per-click advertising in five geographic markets, you might try a $2,000 test in just one of the markets.
If it works as expected, you'll have justification to expand your efforts. If not, you can analyze the results to determine what might work better, and you're only risking $2,000 instead of 25 times that amount.
Additionally, some types of digital marketing efforts, such as social media, even allow two-way communication between a business and its prospects and customers. This results in a higher level of reach, interaction, and engagement, which can strengthen the relationship between your business and target audience.
Developing a digital marketing strategy
Some businesses view digital marketing as its own silo, separate from other marketing and sales efforts. That's short-sighted. For the greatest effectiveness, digital marketing must be viewed as one component of the company's overall marketing efforts, and digital strategies should have direct connections with other marketing and sales activities.
Businesses can also make the mistake of jumping into digital marketing with two feet, investing large sums of money into specific digital channels without clear objectives -- that may not be the best starting point for your company.
The best way to begin is to develop a Digital Roadmap, which is a plan with specific goals and metrics for measuring the degree of success against reaching your target audience through that specific channel. The roadmap will also enable you to prioritize which technology to implement given limited employee resources and budget.
As you develop your roadmap, remember there are plenty of friendly digital marketing salespeople who are only too happy to convince you that the strategy they offer is the best place for your marketing dollars. It's easy to lose sight of the fact that their primary motivation is to make a sale, not necessarily to help your business grow.
You're better off taking a more methodical approach to planning that allows you to examine multiple potential channels and processes before narrowing them to the options that are best suited for your needs.
Choosing the right digital marketing channels
With so many opportunities, it's crucial to identify the channels that best fit your marketing objectives. A simple way to start is to talk with many of your customers and ask them where and how they spend their time online. Mention different approaches and listen to their reactions.
For example, they may view email marketing as an intrusion or enjoy learning more about products and services through that channel. If your customers genuinely represent the broader market, their comments will give you a solid starting point for considering channels such as those that follow.
Search engine optimization
Generally referred to as SEO, or Organic Marketing, this involves an ever-changing set of tactics to encourage search engines such as Google to find your website more easily and place it higher in its rankings. This digital channel has become increasingly more important, as 67% of clicks go to the first five organic results.
SEO professionals typically begin by creating a list of keywords likely to be used by people searching for a business like yours and then help you optimize your website, blogs, and other communications for those keywords. Search engines constantly adjust the algorithms they use to determine ranking therefore SEO is an ongoing process that must be closely monitored and proactively managed.
Pay-per-click strategies
Google and many other online sites and platforms offer the opportunity to place highly targeted advertising on their pages. For example, if someone performs a Google search seeking a company like yours in your community, your business may or may not rank highly enough to be noticed.
By purchasing a pay-per-click (PPC) ad, your name and a link to your business will likely appear in a prominent place on the search engine results page. A benefit of PPC is that you only have to pay for ads that are clicked, while a drawback is that the most desirable phrases are generally extremely costly.
Content Marketing
Content marketing is an approach built around sharing helpful information with your customers and prospects. Blogging and email newsletters are examples of this strategy. By updating your audience with information they need to know about changes in their industries and services or products you offer, you strengthen your reputation as an expert.
Content marketing works hand-in-hand with SEO, as the content that is written should tie to the keywords your target audience is searching for on the various sites.
Email marketing
While email marketing is also a form of content marketing, it deserves its own discussion because of its cost effectiveness, flexibility and ability to keep your brand top-of-mind. Assuming you have email addresses for your customers and prospects, you can use email marketing to communicate with them weekly, or as needed, by providing content that is relevant to their business. The emails should include a call-to-action that enables the customer or prospect to contact you for more information.
Social media
You can reach customers and prospects through social media sites such as LinkedIn®, Twitter®, and Facebook®. This approach is attractive to many businesses because they see how much time individuals spend on these sites. However, managing a social media effort can be complicated, time-consuming, and expensive. So, unless you have unlimited resources, you may want to prioritize which social media site to be on versus being on all of them.
Mobile apps
Some businesses invest in the development of applications for use on smartphones and other mobile devices. However, such development can be very costly, both in employee resources and funding. Therefore, it requires an honest answer to the question of whether your app would be welcomed or used by your customers, especially when many websites can now render well on mobile devices.
Getting the funding you need
Stepping up your digital marketing efforts can be productive, but it can also be costly. A successful digital marketing strategy should provide a healthy return in the form of increased revenues, but how can you fund your efforts? When companies like yours need additional capital for good reasons such as these, they often turn to traditional sources such as local banks, which are more comfortable with collateral-based lending.
An alternate for many companies is specialty lenders that are accustomed to working with your industry. Such lenders understand how a business like yours operates and are familiar with the nature of your income streams so that they can approach the underwriting process with realistic expectations and an appreciation for inherent risks.
A growing number of business owners in your industry are turning to specialty lenders like Oak Street Funding, who are accustomed to working with businesses like yours. If you are interested in learning more, please contact us. We have lending experts that have helped hundreds of clients, in industries like yours, with the capital they need to grow their business.
---
Disclaimer: Please note, Oak Street Funding does not provide legal or tax advice. This blog is for informational purposes only. It is not a statement of fact or recommendation, does not constitute an offer for a loan, professional or legal or tax advice or legal opinion and should not be used as a substitute for obtaining valuation services or professional, legal or tax advice.