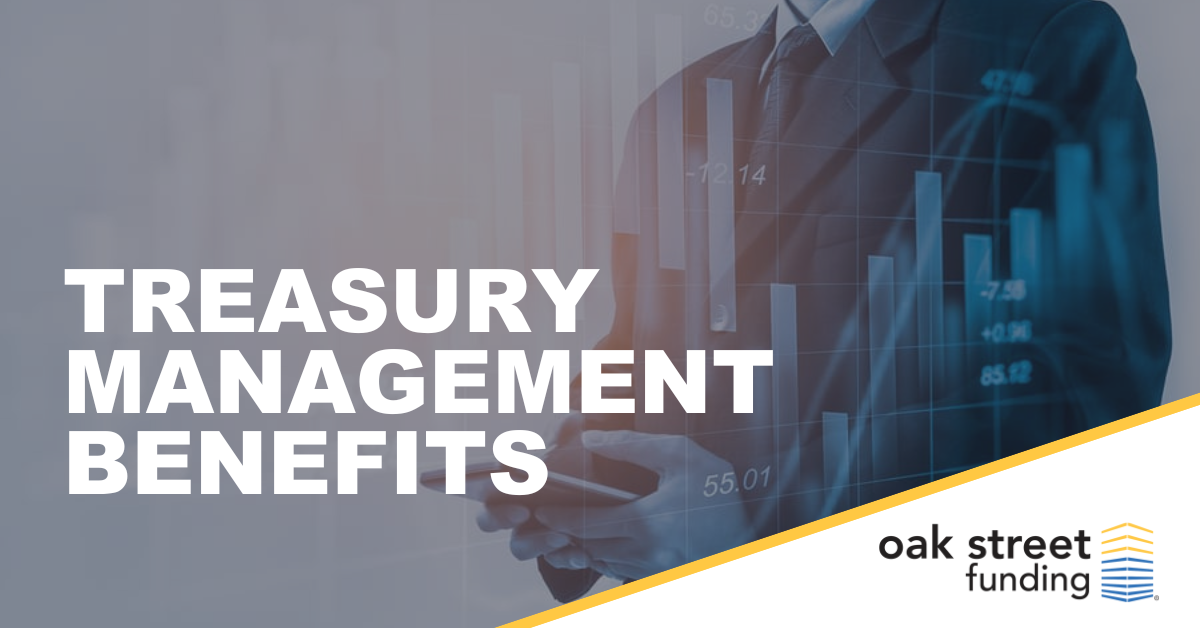 Treasury management is a familiar concept to the CFOs of large corporations, who have used treasury management strategies to help those companies squeeze every extra percentage point of profits they can find. Owners of small businesses and professional practices can benefit from many of the same treasury management strategies big companies employ.
What is treasury management?
In simple terms, treasury management is the overarching term for several strategies that help companies ensure they always have access to the cash they need to run their day-to-day business. For example, cashflow management is a key component of treasury management, and short- and long-term financing is often used to provide access to additional cash. Another example involves making the most of the assets a company can invest. The goal is to maximize liquidity while reducing risks to financial exposures.
---
Why should you consider treasury management?
Companies dream of finding success through innovation, productivity, and profitability, but one of the hallmarks of all those who succeed is their ability to ensure they always have enough cash to meet their needs. In fact, a lack of cash is a common company-killer, even among apparently successful businesses. For example, a company in a largely seasonal industry may be overwhelmed by revenues during peak months yet find it difficult to pay normal bills the rest of the year.
Treasury management involves monitoring business activity impacting cash, from how quickly receivables are being paid, to properly timing payment of vendor invoices, to establishing lines of credit and financing programs, to selling unneeded equipment and other assets. It also incorporates risk management to protect the business from unexpected shortfalls and other situations.
If you've ever worried about having enough cash on hand or realized what's sitting in your checking account isn't making money for you, a conversation with a treasury management professional can open your eyes to sensible solutions.
What are the benefits of treasury management?
While there are many benefits of treasury management for companies in specific industries, there are four key benefits that are common to most businesses, including:
Cash management. Never worry your company will run out of cash when you really need it. By monitoring cash flow, treasury management professionals can spot opportunities for investing unneeded cash, and when money starts to get tight, they can help you access resources.
Faster receivables. The sooner people pay what they owe you, the healthier your business. Treasury management professionals can compare the timing of your receivables to what they should be and show you ways to make it happen.
Optimizing payables. If your company is paying bills more quickly than people are paying you, you may find yourself tight on cash. By efficiently coordinating receivables and payables, you have an opportunity to accumulate and use cash more efficiently.
Less risk. Because treasury management involves protecting your short-term assets, a treasury management professional can also assess the inherent risks of your business and marketplace. That may include everything from fraud protection to loss control.
---
---
Why is a treasury management system important for cash flow management?
It's possible to implement a cash flow management system without also getting into the other areas of treasury management. However, that's like buying minivan tires for a sportscar. Sure, you can get around, but you won't get the performance you hoped for. Using a full suite of treasury management services will give you significantly greater control over your company's operations.
Where can you find treasury management services?
Through our parent company, First Financial Bank (FFB), Oak Street Funding provides companies like yours access to complementary treasury management solutions.1 Simply open an account at First Financial Bank, and after your loan closing with Oak Street Funding, you will be able to take greater control of your assets with support in:
Risk Management. Mitigate a variety of risks with best-in-class fraud prevention tools.
Receivables. To keep your cash flowing, you want to process customer payments as quickly as possible. FFB's treasury management professionals have the tools to make that happen. They will walk you through options to improve your processes and get cash into your account for use more quickly.
Liquidity. Maximize returns by moving funds where they need to be. For example, automated sweep account services keep your money moving without you having to move a muscle.
Payables. Enhance the efficiency of your accounts payable process -- including payroll, vendor payments, card payments, tax payments, and the electric data interchange (EDI) that goes with them -- using FFB's tech tools that make your life easier.
Reporting. FFB can deliver all accounts and details for the previous day's transactions digitally to multiple users.
Fraud protection. FFB's services provide protection that helps to monitor for suspicious transactions, detect fraud, safeguard your accounts and prevent security threats.
Real-Time Info. With f1RSTNAVIGATOR™, FFB's all-inclusive online banking portal, you'll gain the ability to make more informed financial decisions by effectively monitoring, managing, and analyzing your accounts. Steer your business finances easily with access to customizable transaction reporting.
---
---
Believe your business could benefit from these proven treasury management services? Ask any Oak Street Funding professional to connect you with a member of FFB's Treasury Management team for additional information and the answers to your questions.
---
1Services provided by First Financial Bank and/or Integrated Cash Logistics
---
Disclaimer: Please note, Oak Street Funding does not provide legal or tax advice. This blog is for informational purposes only. It is not a statement of fact or recommendation, does not constitute an offer for a loan, professional or legal or tax advice or legal opinion and should not be used as a substitute for obtaining valuation services or professional, legal or tax advice.

By clicking on a third-party link, you acknowledge you are leaving oakstreetfunding.com. Oak Street Funding is not responsible for the content or security of any linked web page.