How Will the Use of AI in Insurance Affect Your Agency?
December 9, 2021 •Oak Street Funding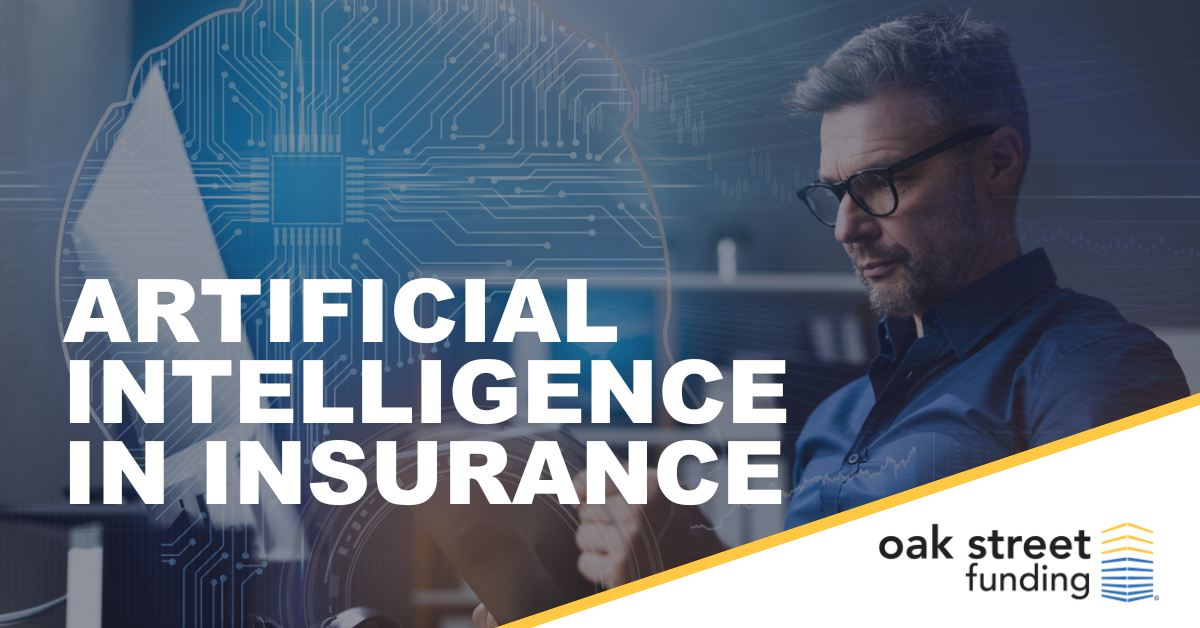 Artificial intelligence, or AI, in insurance might sound like the stuff of science fiction to some insurance agents. Still, it's already a reality, and the role it will play in your agency's future is rapidly expanding. The development of technology for AI in insurance was already well underway when COVID-19 appeared. The pandemic accelerated the demand for new ways to do business with less human-to-human interaction.
How AI is transforming business
Insurance is just one of the many businesses in which AI is having a significant impact. The McKinsey management consulting firm has identified four primary factors creating an environment ripe for innovation of AI in insurance and other fields:
Explosion of data from connected devices. The Internet of Things (IOTs), a descriptive phrase for connected devices, is expected to grow to one trillion connected devices by 2025. All those devices will generate a wealth of data to help companies better understand the needs of their customers.
Increased prevalence of physical robotics. From 3-D printers to autonomous vehicles, robotic devices are playing more significant roles in our lives and changing customer expectations. As a result, insurers can expect to see corresponding changes in risk pools.
Open-source and data ecosystems. All the new data is fundamentally useless unless it can be shared, so there's an increased use of open-source protocols to allow public and private entities to gain access to more information about customers.
Advances in cognitive technologies. As science becomes better at understanding and duplicating how the human brain learns, technologies will be better able to think and make decisions, simplifying (and perhaps even eliminating) processes like traditional underwriting.
How AI in insurance will affect insurance agencies
As futurists examine the impact of AI in insurance, many of the developments they anticipate will directly affect how insurance agencies will do business, particularly in how they interact and communicate with customers and carriers. McKinsey identified several aspects of how things may change over the next decade:
Simpler purchases. With access to a wealth of data about consumer behavior and individual customers, algorithms could reduce the purchase and issuance of policies to a matter of minutes, with less interaction from agent and customer.
Faster payments. Agencies can use blockchain technologies to generate contracts and authorize customer payments immediately, reducing the cost of the sales process.
Tailored solutions. One-policy-fits-all approaches will be supplanted by usage-based insurance (UBI) products tailored to customers' lives and specific needs, including "microcoverages" such as policies for particular appliances.
Automated underwriting. Combing data with machine and deep learning technologies could automate the entire underwriting process, leading to decisions within seconds instead of hours.
Rapid claims. As the claims process becomes increasingly automated, and customers can upload damage photos instead of visiting an adjuster, claims will be settled more quickly and consistently, with claims data feeding back into the system.
Focused agents. Because much of the AI in insurance technology centers on simplifying the sales process, agents will spend less time entering data and more time working with customers in a consultative role. AI can take over much of the day-to-day work in agencies, reducing staffing needs.
Preparing for AI in insurance
The transition to increased use of AI in insurance is likely to be just as tricky for agencies as the last generation's transition to technology. That may lead some insurance agents to resist the move. However, since the changes are inevitable, adjusting your business and strategies to accommodate the new approaches makes sense. Agents can take several steps today to prepare for what's ahead:
Learn all you can. It's tempting to put off learning about AI in insurance until you absolutely must but making an effort to understand what's happening and what's ahead will provide advantages as changes occur.
Start thinking about data. Your agency is already a treasure trove of data about your customers' lives and the businesses you serve. Learn to recognize that data and consider how you might use it in the coming years.
Consider AI when hiring. You probably don't need to make sure your next employee is an AI wizard, but look for employees who are unafraid of technology and willing to embrace new ideas and approaches. Of course, make sure they have access to the right technology, too.
Plan for tomorrow. Your strategic plan needs to consider the increased use of AI in insurance so you can capitalize on it instead of struggling to catch up with it.
Funding to support AI initiatives
Adapting your agency to changing needs, such as the increased use of AI, often creates a need for additional capital. When agency owners need to borrow, they often assume the best source for funding is bankers in their community, but by nature, bankers are more comfortable with collateral-based financing than providing capital to support a company's future growth.
An alternative for agency owners is specialty lenders accustomed to working with the unique aspects of the insurance industry. Such lenders understand how a business like yours operates and are familiar with the nature of your income streams so that they can approach the underwriting with realistic expectations and an appreciation for inherent risks.
As a result, a growing number of insurance agency owners are turning to specialty lenders like Oak Street Funding® who are accustomed to providing capital to companies like yours by tapping into future income.
---
Disclaimer: Please note, Oak Street Funding does not provide legal or tax advice. This blog is for informational purposes only. It is not a statement of fact or recommendation, does not constitute an offer for a loan, professional or legal or tax advice or legal opinion and should not be used as a substitute for obtaining valuation services or professional, legal or tax advice.
By clicking on a third-party link, you acknowledge you are leaving oakstreetfunding.com. Oak Street Funding is not responsible for the content or security of any linked web page.