Choosing Fixed- or Variable-Rate Business Financing
September 22, 2022 •Oak Street Funding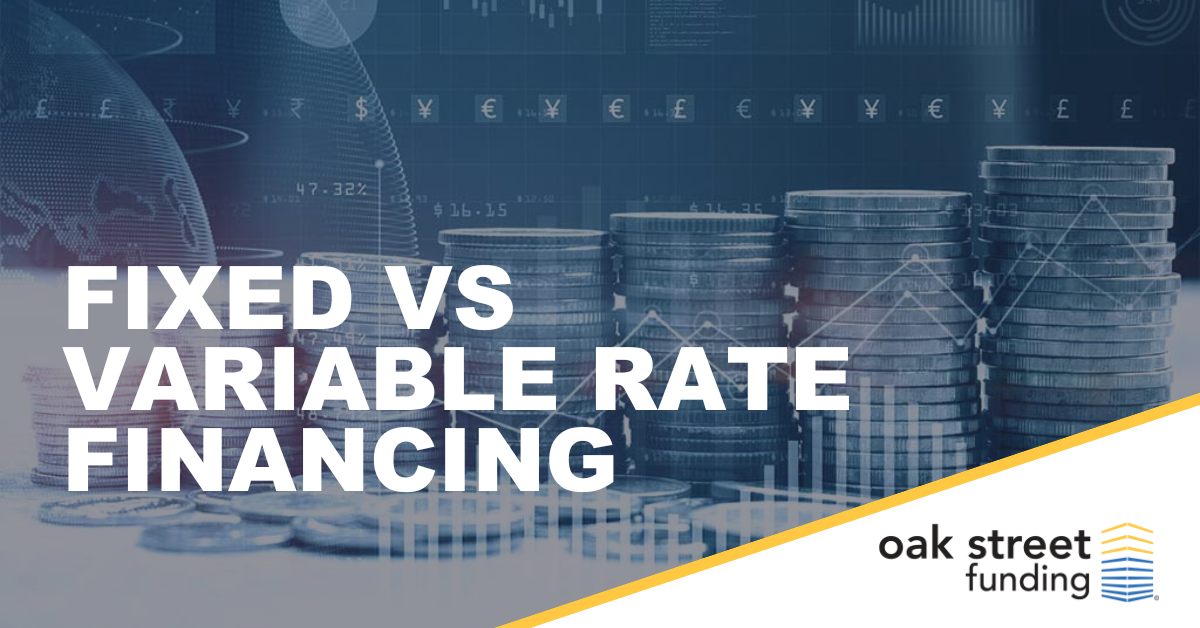 With the increase of prices due to inflation, the Federal Reserve is discussing raising interest rates quickly and sooner than expected. In fact, economists and investors predict the first increase could roll out after the mid-March meeting. These predictions leave many business owners wondering what impact the increasing rates will have on their ability to borrower money at ideal interest rates. Rick Dennen, founder and CEO of Oak Street Funding, addressed the potential concerns of borrowers.
He said, "As prices and interest rates increase, we can expect to see less money circulating in the general economy. Inflation typically leads to increased borrower demand for capital as borrowers look to lock in the best rates available." So, for business owners who want to capitalize on the current interest rates, now is an opportune time to consider financing for business growth.
Fixed-Rate vs. Variable Rate: Which is Better?

Some business owners may be more comfortable with a fixed-rate loan to lock in the interest rates of today for tomorrow. The choice depends on the business and the rates.
Two Choices: Variable- or Fixed-Rate
Business owners have two main choices for financing: fixed- or variable-rate loans. In most economic environments, variable-rate loans offer some substantial advantages for businesses. Frequently, these loans are structured with lower rates compared to their "fixed" partners. In addition, lenders are typically willing to extend larger amounts through a variable-rate loan because it reduces the interest rate risk the lender has to assume.
In the immediate, variable-rate loans come with a lower rate, but if the federal funds rate increases, so will the interest rate of the loan. Therefore, with the projected interest rate increases, some business owners may be more comfortable with a fixed-rate loan to lock in the interest rates of today for tomorrow.
The biggest advantage of choosing fixed-rate lending is predictability. You can borrow with the confidence that your rate and monthly payments will remain unchanged for a fixed period of time, regardless of federal funds changes. Of course, if market rates should drop, your rate may be less of an advantage, but it's hard to imagine that market rates will decrease in the near future.
These long-term fixed-rate loans are a boon for business owners who are contemplating a significant expansion, such as the acquisition of another business, or any major capital investment. If that expansion or investment leads to continuing revenue growth while the interest rate and monthly payments remain stable, the loan becomes that much more affordable with each month.
Conclusion
The right choice for your company depends upon why you are borrowing, your company's financial condition, your own risk tolerance, and your predictions about how the interest rate environment might change in coming years. Your growth strategy may dictate your choice of a fixed-rate loan for long-term stability or a variable-rate loan for immediate cost savings.
You can also use our interactive loan calculator to compare fixed- versus variable-rates. If you've been thinking about taking advantage of today's lower rates to finance a major change to your business, now may be the perfect time to act.
Oak Street Funding offers customized financial solutions, including fixed- and variable-rate options. Contact us to learn more.
---
Disclaimer: Please note, Oak Street Funding does not provide legal or tax advice. This blog is for informational purposes only. It is not a statement of fact or recommendation, does not constitute an offer for a loan, professional or legal or tax advice or legal opinion and should not be used as a substitute for obtaining valuation services or professional, legal or tax advice.