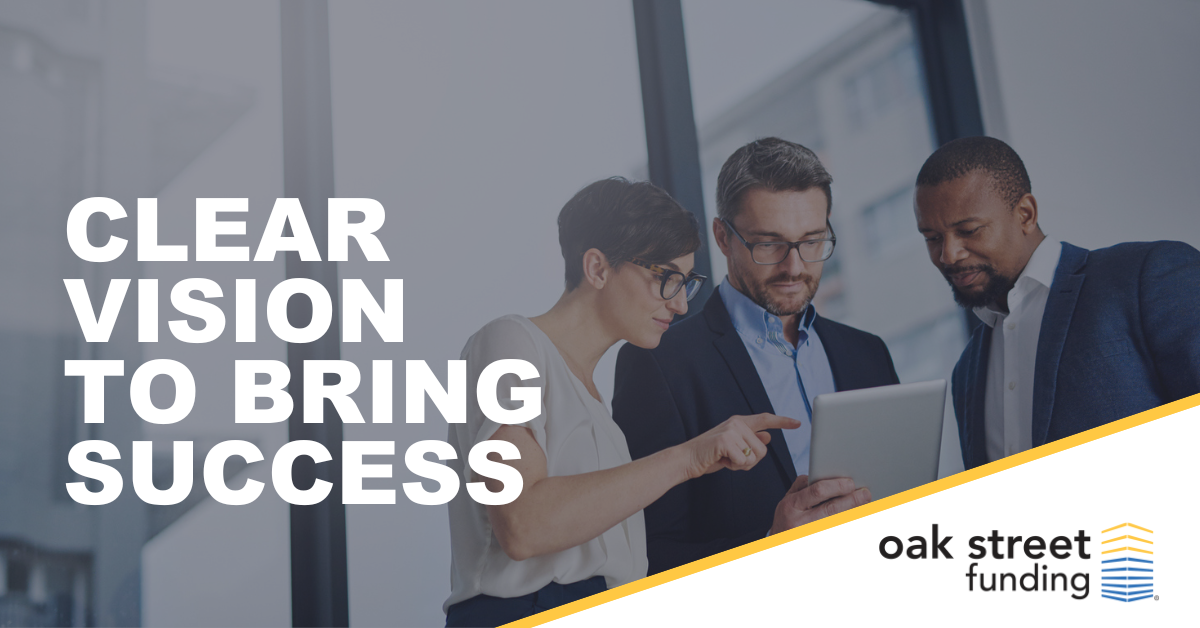 Many business leaders follow and regularly update the vision and mission of their organizations. However, others feel they can successfully operate their business without one. Still others may not be sure how to create a vision for their organization. However, a vision is valuable for organizations of any size that want to reach the next level.
Why do you need a vision?
According to Rick Dennen, Founder and CEO of Oak Street Funding, "You need the mission or vision. Those can evolve over time as your business evolves, but it's good to have a mental mindset to align employees, executives, and shareholders." No matter the size of your organization, a vision will guide the discipline of your organization. Think about where you want to be in the future and what steps you need to take to achieve those future goals.
Paul Leroue, Principal and CMO at Wipfli, advised, "Your ability to be agile is easier if you have a plan. If you're starting from scorched earth every day and trying to be agile, that's called chaos. That's where you don't want to be." An organization without a vision is aimless and unable to pivot in times of disruption.
What makes a good vision?
A good vision involves a plan to accomplish the organization's goals and considers the potentiality of disruptions. Rick Dennen shared, "I always think of strategy or vision as, how do you get from A to B?" Do you have a good approach to what you want to accomplish in your business?" However, to quote Robert Burns, "The best-laid plans of mice and men often go awry." There will be disruptions, and a good vision accounts for those.
Paul Lally, Principal at Wipfli noted, "You have to be agile, and each organization is different. There are no best practices for doing it because everybody's figuring out what's working. Keep testing; don't grasp onto it and say, we won't change the way we do things." A good vision is flexible and adaptable to internal or external changes and doesn't have to be complex.

What are the benefits of a vision?
A vision provides alignment and spearheads engagement across the organization. According to Paul Lally, "Over time, people just become naturally misaligned. Sometimes it's like a marriage. You've got to step back and ask, are we really still aligned in our core?"
Without a vision, it's difficult to identify when the organization is misaligned. A vision provides a compass for ensuring the company is always heading in the right direction. Before making major decisions, refer to the vision to make sure the organization stays aligned. An organization with a vision can more quickly identify when it is off course before it is too late to redirect.
Additionally, a vision draws investment from employees and stakeholders. "A vision gives your team a part to play in your success and rewards them for that part," said Paul Leroue. All employees on the team have a common unifying goal. Striving for a common goal is the backbone of all great teams, from soccer to marketing.
How do you get buy-in for a vision?
In the new age of remote work, employees can feel disengaged from the corporate culture and each other. Paul Leroue said, "If you look at the numbers, the research shows people are not as engaged and not as connected and therefore feel not as connected to the culture. We have to be intentional to correct that." One way to reengage employees to the vision is through relentless communication. Most people have to hear something seven times before they remember it. Employees should be reminded of the vision that unifies them regardless of physical distance while working remotely.
Employees are more likely to support a vision if they are included in its creation. Including employees in the process gives them a feeling of ownership. Employees who feel they have a direct impact on the organization's success are more committed and dedicated.
How do you measure vision success?
It is tempting to create a dashboard to measure success with 100 metrics. However, a better practice is to focus on a few indicators that capture the heart of your vision. People are better able to focus on a few goals than many goals. Once you feel your team has successfully reached a goal, replace it with another one to keep momentum concentrated on achieving the vision. Keep in mind the vision itself may change as disruptions occur, and it may be necessary to change the way you measure success.
Getting Started
If you are unsure how to craft a vision, reach out to a consultant or search for examples online. The benefits of a compelling vision outweigh the cost or time investment of hiring a consultant or researching online. Gather input from employees and include them in every step of the process. Be enthusiastic about the vision, and the organization will follow.
---
Disclaimer: Please note, Oak Street Funding does not provide legal or tax advice. This blog is for informational purposes only. It is not a statement of fact or recommendation, does not constitute an offer for a loan, professional or legal or tax advice or legal opinion and should not be used as a substitute for obtaining valuation services or professional, legal or tax advice.