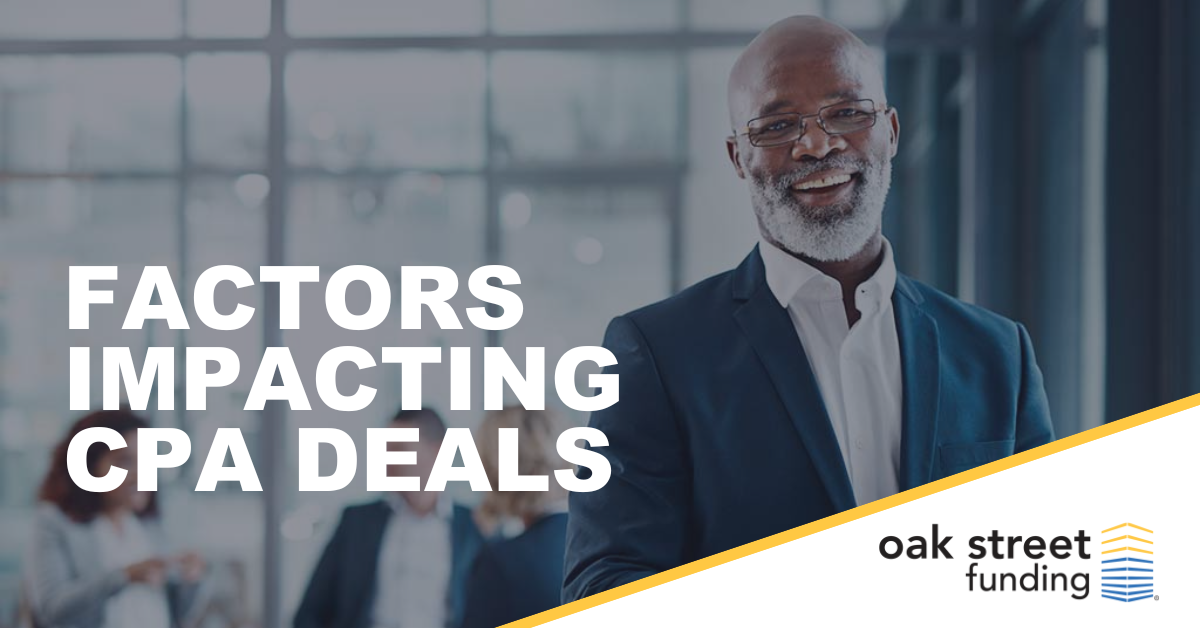 Earlier this month, Oak Street Funding host and moderator Bridget Haight sat down for an interview with Bob Lewis, President of The Visionary Group, and Bruce Warren, Oak Street Funding Vice President of Strategic Markets, to discuss factors impacting CPA acquisitions. Together, Bob and Bruce have over 35 years of experience navigating the CPA acquisition marketplace. The acquisition market is experiencing rapid changes due to rising interest rates, inflation, and the influence of Private Equity firms. Continue reading to learn from Bruce and Bob's responses to these issues.
---
---
Bridget: Is there a looming recession and what impact will inflation have on deals?
Bruce: All the signals point to a recession and it will impact borrowing costs. The FED is going to have to increase fees to keep up with this inflation. That's just a basic fact at this point, unfortunately. The rising rates are going to affect borrowing costs, which are going to affect the prices of practices and how much money you have to put into them.
Bob: As interest rates go up, there's going to be higher cost and more pressure on cash flow, right? Will it decrease the value of some of the firms? Potentially yes, especially if there's outside financing required to make a deal structured go through.
Bridget: Besides inflation, what other issue do you see impacting the accounting industry?
Bob: The bigger impact I think is going to be is the staffing shortage in the accounting profession right now. Even if a lot of the clients start to struggle a little bit because their interest rate issues, there's so much work out there that firms are actually just walking away from because they do not have the staff. I think that all of that backlog work would backfill any shortages a recession could create inside the client base for a CPA firm.
---
---
Bridget: Another hot topic right now is the influence of Private Equity firms. What impacts is PE having on CPA deals?
Bruce: In the CPA industry, PE firms seem to be looking for longer-term investments with a more passive approach. For example, I've got a couple firms right using PE money to help with their acquisitions, but the PE firms let the CPA ownership determine the pricing for what they're going to be buying. So, anywhere from .8 to 1.2 times is the typical market right now and PE is really not determining the price. Historically, the CPA industry has been really stable and hasn't experienced the increased multiples like other industries. I don't see that changing, at least for the near future.
Bob: So, what everyone is trying to figure out is if PE is in a long-term play, or are they doing it more for the short term? The typical answer we've seen so far is that they're probably planning on a good three-to-four-year window at least. Some are buying it to hold and resell, others are buying to then introduce their wealth management arm, their insurance services arm, or their cyber arm, into the client base.
Additionally, they're now changing the pricing structure to a multiple of revenue, which goes almost back into how the CPA firms have been doing things for, it seems like the last two or three centuries. So, the private equity market's getting really interesting.
Bridget: What changes do you see happening to the accounting industry overall?
Bob: PE is going to force more and more diversification in the advisory sector. We are seeing firms from 10 million on up with 20-40% of their revenue coming from advisory services. We're not talking about tax consulting as advisory, we're talking about pure management consulting or different service models like cyber or wealth management, which to me is a really missed arm still. I think investment banking is another huge area for CPA firms to get involved in because they have so many clients that need to sell because of aging baby boomers and there's a lucrative revenue stream inside that investment banking arm that also feeds evaluations, estates, and trusts, plus the whole wealth management side.
Bruce: A recession may cause some clients to cut back on the services they need. However, now is a great time to offer budgeting services to help clients prepare for 2023. Clients will rely on their trusted advisors to look for ways to reduce cost as inflation continues to rise. CPAs who continue to market their services and focus on growth will be more likely to succeed during a recession than those who rely solely on referrals and repeat business.
Bridget: Thanks to Bruce and Bob for sharing insights on the issues impacting CPA deals in 2022. If you are looking to buy or sell a firm, check out our CPA firm exchange where buyers and sellers can find opportunities at no cost. For buyers, Oak Street Funding has the capital and CPA industry knowledge to support your firm acquisition. Contact us today!
---
By clicking on a third-party link, you acknowledge you are leaving oakstreetfunding.com. Oak Street Funding is not responsible for the content or security of any linked web page.
Disclaimer: Please note, Oak Street Funding does not provide legal or tax advice. This blog is for informational purposes only. It is not a statement of fact or recommendation, does not constitute an offer for a loan, professional or legal or tax advice or legal opinion and should not be used as a substitute for obtaining valuation services or professional, legal or tax advice.