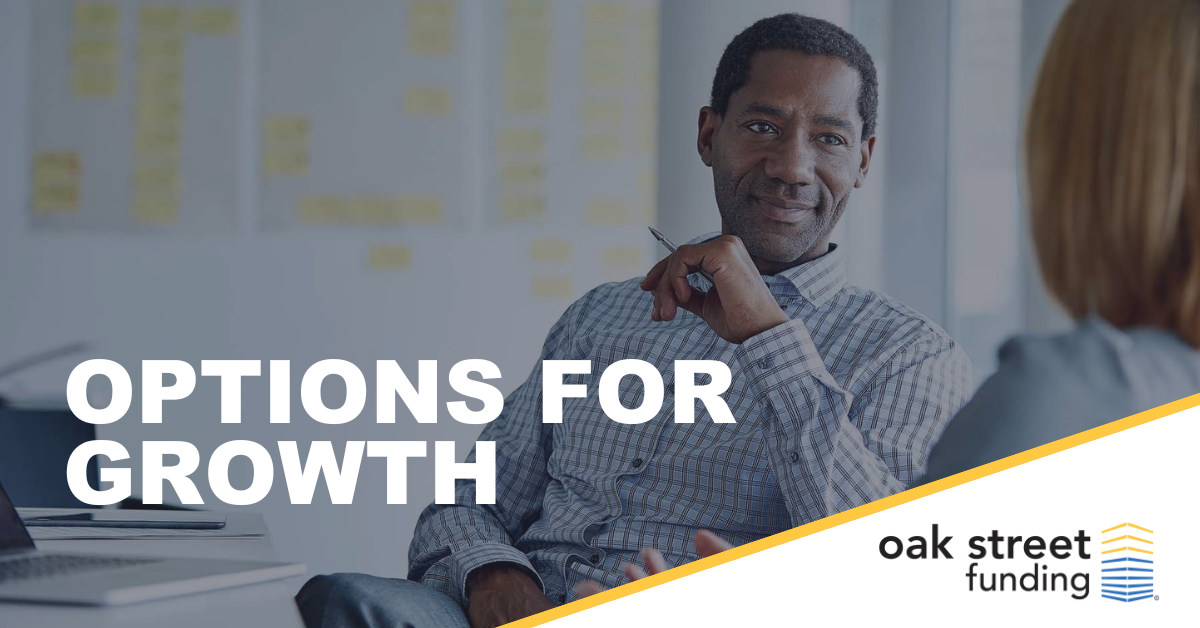 An old adage says, "You're either growing or dying." Did you know this applies to businesses as well as individuals? Companies that lack a growth mindset will not stay in business for very long. While growth depends on more than revenue, financial growth is vital, and business owners seeking to grow in 2023 have many capital options to support a growth strategy. The growth capital options for business owners can be classified into three main categories: debt, equity, and alternative methods.
---
---
What are my options for growth in 2023?

What debt options are available for financing?

What are some equity financing options?

What alternative growth options are available?
What debt options are available for financing?
SBA loans
These are made directly by banks, credit unions, and other financial institutions. The Small Business Administration determines the interest rates, lending limits, and other key terms and helps to protect the lender if the borrower defaults. A disadvantage of these loans is that both business and personal assets may have to be pledged as collateral, a personal guarantee of a spouse may be required, and non-real estate collateralized loans have loan amount limitations that may not meet your needs.
Traditional bank loans
While local banks may aggressively market loan services, it may be difficult for some types of businesses to qualify for affordable financing. Bankers typically base lending decisions on physical collateral such as real estate and inventory. However, for many companies, a key asset is their future cash flow, which is considered an intangible asset. Bankers may be uncomfortable assuming the risk associated with quantifying such an asset.
Specialty lenders
Businesses that traditional banks don't welcome may find financing options from a specialty lender that offers cash-flow-based loans funded on recurring revenues. This type of lending provides the flexibility to customize lending packages based on the business's specific needs, all without requiring personal assets as collateral to support the loan.
---
What are some equity financing options?
Family and Friends
Many companies start out with an investment from family or friends who believe in the business plan. Friends and family are mainly investing in the character of the person starting the business and how much faith they have in the individual making good on their investments. Mixing relationships and business can be messy, so make sure you have clearly defined documentation of the investments.
Private Equity
Private equity is vigorous in the U.S., and many businesses benefit from PE investments. However, private equity entities are looking for specific types of businesses. So, how can an owner make their company attractive to private equity? According to Rick Dennen, private equity firms are looking for businesses that run effectively with a strong growth mindset. Their investment often begins with an end in mind that typically includes aggressive growth and a healthy return on the investment.
Minority Investors
As an alternative to the typical majority investment made by private equity, minority investors are on the rise as a capital option. What should you consider when looking at minority investments? Rick Dennen says, "Even a minority investor can be a tremendous headache if they are not aligned with the executive team's strategy, culture, and goals." Carefully consider the balance of investment and control when a negotiating a deal with a minority investor.
---
What alternative growth options are available?
Human capital
Business growth doesn't have to stem from an increase in cash. Instead, invest in people who will take your business to new levels and expand your reach. There might be a temporary strain in the cash flow when you hire, but as they execute on your growth strategy, or roll in new business, your ROI in human capital is more than worth the initial strain.
Acquisition
Acquisition is a growth opportunity that can complement your weak areas or fortify your business' strengths. It is a quicker solution to expand in new markets than is possible through organic means. According to Rick Dennen, "a successful acquirer must be able to identify, evaluate, and integrate."
Identify the markets where you should seek to grow, carefully evaluate the organization you plan to acquire, and be willing to integrate new ideas and personalities. Finding the right capital structure to execute on an acquisition strategy is a key aspect to the overall ROI.
---
Conclusion
There are more financial options available for businesses now than ever before. The best solution for your business may be another option like crowdfunding, grants, or an angel investor. However, if you are an investment advisor, insurance professional, certified accountant, or energy broker looking for a specialty lender, Oak Street Funding® offers the capital and expertise you need. We provide loans for acquisitions, working capital, and partner buy-ins to help you grow your business.
---
Disclaimer: Please note, Oak Street Funding does not provide legal or tax advice. This blog is for informational purposes only. It is not a statement of fact or recommendation, does not constitute an offer for a loan, professional or legal or tax advice or legal opinion and should not be used as a substitute for obtaining valuation services or professional, legal or tax advice.