What Strategies Are Needed to Beat the Competition Today?
August 2, 2022 •Oak Street Funding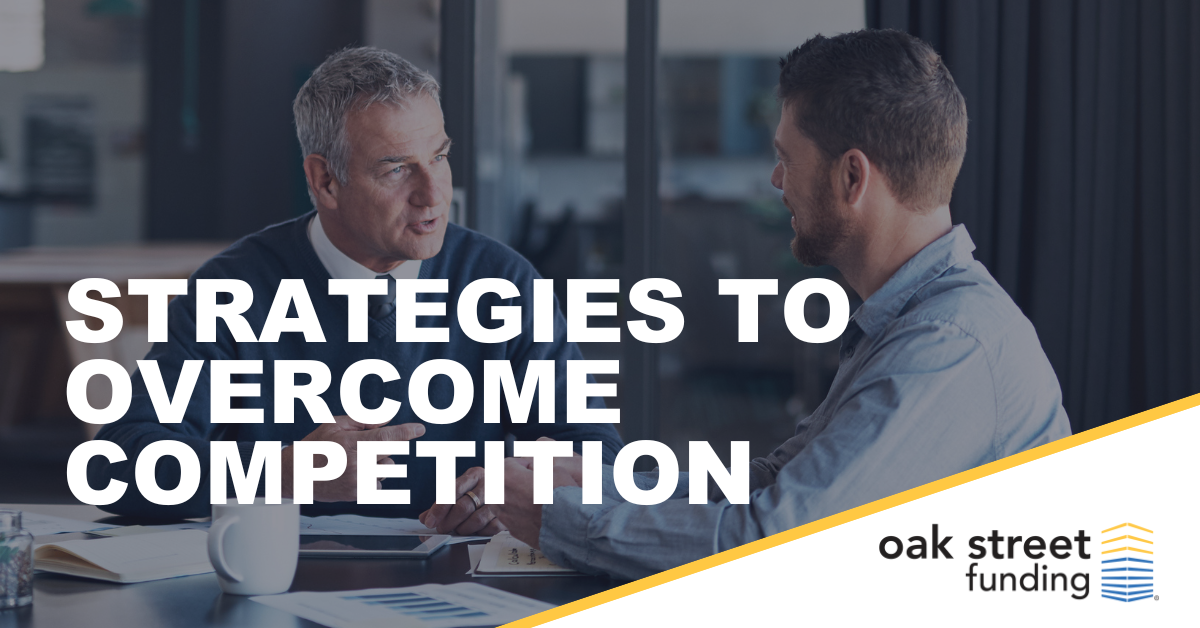 Times change, and so do the strategies you need to beat the competition. It is vital for your business's success to adapt to the constantly changing marketplace. More than ever, clients and employees are drawn to companies that are actively looking for ways to expand and develop.
---
5 Strategies to overcome competition:
Determine a niche to serve
Cross-sell
Deliver higher-value services
Client outreach
Integrate new technology

---
Small business competition continues to increase
The marketplace and client preferences have changed dramatically in recent years, thanks to technology and increased competition from new sources. From online do-it-yourself sites to larger companies hungry for new revenue, many smaller business owners have noticed erosion in their share of the market. That pressure will only intensify in the coming years. To ensure your company continues to grow during the foreseeable future, you need to take steps to stay in a competitive position. Even simply trying to maintain the status quo demands stepping up efforts to stay ahead of normal client attrition.
Expand what you provide
One effective strategy for beating the competition is adding services to increase the value you can provide to clients. Customers appreciate the simplicity of having all their needs met with one provider instead of needing multiple resources. For example, if you are an insurance agent providing home and car coverage, could you also add life insurance? Or if you are an RIA or CPA, you may consider adding a consultation service to the array of products you offer. You can choose to hire new employees to offer these services, or you may take the opportunity to acquire another company already providing those services.
Identify opportunities disguised as problems
Survey your customers to find their pain points and tailor your services to meet their needs. Clients are more likely to do business with the companies that demonstrate a deep understanding of their difficulties. This will encourage client loyalty and they will be more likely to recommend your services to others.
Ways to maintain client loyalty
Strengthening client loyalty is a crucial strategy consideration. Factors such as service and pricing matter, but the best way to achieve staying power is by demonstrating your company's value in meaningful ways while identifying additional revenue opportunities from clients. If your customers don't see tangible value, they'll look elsewhere for the services your company provides.
Competition-beating strategies for small businesses
One of the best strategies for small businesses to beat the competition is taking a fresh look at your business and the services it offers, such as:
Developing and enhancing knowledge of specific fields because companies offering specialized expertise typically face less competition. What industry niche service or product is the most profitable for your company?
Ensuring clients are familiar with the depth and breadth of your expertise. Are your employees consistently cross-selling products and services to clients?
Delivering higher-value services than your competitors. How can you increase the personalization of your services to stand out from the competition?
Stepping up the frequency and the quality of client outreach. Are you top-of mind for clients when they are looking for a service you provide?
Integrating technology to enhance and support client service. Have you implemented the latest technology to simplify the customer experience?
Given the ever-increasing complexity of doing business, owners may find it more challenging to assess their opportunities and make confident decisions. Developing a greater depth of knowledge in specific industries can differentiate your company and may even allow you to broaden your market area.
Look ahead and invest in change
Take time to develop a plan for where you want your business to be in five years, and identify the structure, staffing, culture, and technology strategies involved in getting to the next level. Taking that approach should help you keep your business relevant and competitive in the foreseeable future.
---
---
As you envision what your company could become, there may be a need to consider investing in technology, training, space, or other areas. If you don't have excess capital on hand, you'll probably need to borrow, but remember that you'll be funding costs that should provide long-term improvements to revenues and overall profitability.
Where can you find capital?
If you've decided to use outside capital to fund your strategies, your first inclination may be to turn to a local bank officer. Unfortunately, traditional banks aren't always comfortable with the structure of companies like yours. Most banks prefer to make loans to businesses with tangible assets such as inventory, real estate, and equipment.
That's why many business owners are turning to specialty lenders accustomed to working with companies like yours. These lenders understand how your business works and the nature of your income streams, so they can approach the underwriting with realistic expectations and an appreciation for inherent risks.
Thinking about growing your business using an acquisition strategy or want to invest in your company's technology or team? Oak Street Funding has experts in lending who have helped hundreds of companies like yours gain a competitive advantage with a business loan.
---
Disclaimer: Please note, Oak Street Funding does not provide legal or tax advice. This blog is for informational purposes only. It is not a statement of fact or recommendation, does not constitute an offer for a loan, professional or legal or tax advice or legal opinion and should not be used as a substitute for obtaining valuation services or professional, legal or tax advice.